Alt-J didn't get where they are today by being predictable. And the same goes for their marketing campaigns.
The Mercury-winning three-piece are modern proof that the great independent music dream can still come true; that you don't have to make knowingly mainstream music to smash into the mainstream.
This clearly goes for the marketing of the British group as well as their music – especially when it comes to their second album, This Is All Yours, whose global sales are now fast approaching half a million.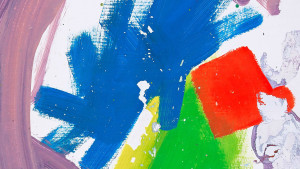 TIAY, released globally in September last year and backed by a series of unexpected promotional techniques, is becoming another international success story for label Infectious and its partner [PIAS].
In its first week, the LP hit No.1 on the UK's Official Chart, as well as No.2 in Australia, No.3 in Belgium, No.5 in France, No.4 in Ireland and No.8 in Germany – and there's plenty more life in the campaign yet.
The biggest difference in the release of TIAY compared to standard record plots was its unapologetic embracement of streaming. In the UK, Germany and other territories, the album was made available, exclusively, on Spotify – not only in time for release, but actually a week before fans could download it.
The decision by Alt-J and Infectious to work so closely with Spotify – and, in doing so, sacrifice any chance of preferential treatment from the digital giant of iTunes – was driven by the platform's enthusiasm for the band.
But another key factor was Spotify's astonishing prior success with Alt-J's first album, An Awesome Wave, which has now attracted more than 240 million streams on the service worldwide.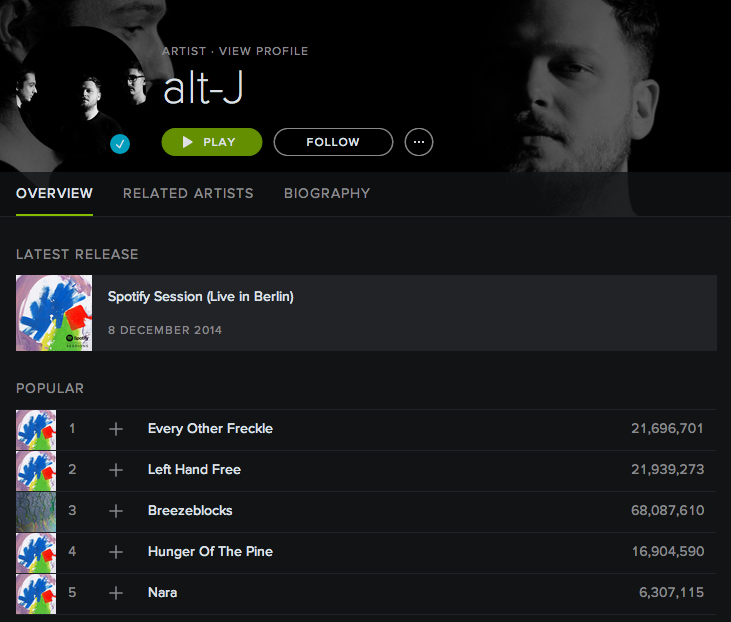 Infectious director Pat Carr explains: "Spotify were so enthusiastic and it just seemed to fit with the whole feel of the [TIAY] project. At that moment and time in that particular release it was the right thing to do.
"It's impossible to say if we would or wouldn't do it again, it would depend on the planets being aligned similarly. Every campaign is different. We continue to work closely with Spotify and will do throughout the whole campaign."
Spotify label relations director Will Hope led negotiations with Infectious and the [PIAS]. He says that as well as enjoying an impacftul first three months on Spotify, his team expect TIAY's popularity to last a long time on the platform – and be boosted by ongoing Spotify promotion.
"Alt-J are an act that do really well on Spotify on an albums basis," he says. "Alt-J's last album was relevant on Spotify for over 18 months and we fully expect TIAY to do the same thing."
[PIAS] and Infectious pushed for an even more special relationship with Spotify in Germany, and it paid off: Alt-J headlined a special free event co-hosted by Spotify and Radio Eins in Berlin, with the resultant sessions now available as a special album on the service.
"The strong focus on Spotify has been quite unusual compared to our other releases," says [PIAS] Germany General Manager Stefan Struever.
"The Radio Eins show was broadcast live on air and we used parts of the footage for a Spotify Session. On top of that Electronic Beats has filmed the show so this gave us quite some leverage around the release."
Infectious's Carr says that the Radio Eins performance "was a real statement over there and really set the album up".
[audio_spotify_album id="3T4Y53fOwcrKsBaClpTbQW"]
The impact of the Spotify strategy is now paying off: in Germany, Struever says Alt-J's sales are close to that of their Mercury Prize-winning debut LP, with 40% of consumption digital.
One aspect of the campaign, however, impressed Struever more than any other. "We were especially thrilled by the Alt J app and would like to see something along those lines on future releases too," he says. (See below for the full story of the Alt-j app.)
In France, Infectious and [PIAS] worked a campaign unique to the territory, featuring an exclusive partnership with the local streaming leader, Deezer.
But the imagination from team Alt-J in Paris didn't stop at digital: more than 30,000 units of TIAY have now been sold in the territory, with more than 80% of them physical – an indication of why CD and vinyl remained such a focus.
[PIAS] France worked particularly closely with leading French entertainment retailer FNAC to maximize interest in the record.
The attention-grabbing centerpiece of this collaboration was a special art exhibition in Paris: a huge recreation of the album's striking artwork – originally created by drummer Thom Green – was painted live outside the FNAC's flagship Des Ternes Paris store on release day.
[video_youtube id="XECFgfJleM4″]
"When you're marketing artists, it's always important to try and focus on opportunities rather than problems," explains Laetitia Rocca, Head of Marketing at [PIAS] France.
"We knew in advance that Alt-J were not going to be available for much promo in France, so we tried to think of other opportunities.
"On the first album, we had a very strong support from FNAC and there was strong interest again for this record. I sometimes drive past a FNAC and there's always a huge billboard advertising new album releases. But they all look the same, quite dull.
"The idea for This Is All Yours clicked one morning: 'We might not have the band but we have this really great artwork. I came up with the idea of doing the artwork live, and FNAC liked it. We wanted it to be colourful while respecting the band – it definitely put some sparkle into the overall campaign."
In order to build anticipation amongst key media partners, Infectious decided upon an unusual media approach in Europe – sending journalists and opinion-formers a six-track taster of the album to gauge their interest early.
"It was a game, in a way," says Rocca. "The band and their management picked the six tracks and we sent them out. The reaction from some French journalists was 'we don't want to be teased – we want the full album', but the people who accepted it had a really enthusiastic reaction and wanted more. The effect was like drawing out the fan in these journalists."
As Rocca alludes to, Alt-J's growing success in the US market – where the album hit No.4 on the Billboard 200 and No.1 on the Top Alternative Albums chart – means much of their promotional availability has been locked down by Stateside media.
[video_youtube id="dCCXq9QB-dQ"]
However, a European tour in January and February – including a sold-out date at London's O2 Arena – will bring heightened interest in the band across the continent, and provide more opportunities for EU media to access them.
This will be especially important in the hard-to-woo French market, says Rocca: "Working in the French market can be very rewarding, but it's very demanding on artists and their managers' time. But when the French fans really embrace what you're doing you can be very successful here.
"Although we totally understand why Alt-J would spend more time in America, it makes it more complicated to keep up momentum. That's why you have to be even more creative with the marketing."
Some more traditional marketing tactics are likely to be employed when Alt-J return to Europe: an album price drop is surely being considered, either for February, or for the busy summer festival period – where Alt-J have been confirmed to appear at the likes of Hurricane Festival in Germany, Garorock Festival in France and Way Out West in Sweden.
[PIAS] and Infectious's ongoing marketing plot will also surely be boosted by the growing popularity of second single, Left Hand Free – which led the campaign in the US and cracked the Billboard Hot 100.
So far, the track has amassed more than 18 million streams on Spotify worldwide, even ahead of lead EU single Hunger Of The Pine, which has reached 15 million.
It all adds up to a long-lasting, patient campaign from Infectious and [PIAS], one designed to make the most of artist availability across Europe and Australia – and to maintain the momentum of This Is All Yours even when Alt-J are camped in the US.

Infectious's Pat Carr sums up the enduring, unhurried nature of the campaign when asked how long we can expect the marketing plot to last, and how much Infectious still has up its sleeve for the album: "Ages. And loads!"
The Alt-J app: 'We believe this has promise for the future'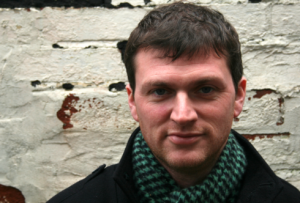 Although partnerships with streaming services such as Deezer and Spotify helped drive the digital appeal of This Is All Yours, they were positively traditional compared to one technological innovation during the campaign.
Alt-J fans were invited to hear the album via their smartphones before it was made available on any other service. There was only one catch: they had to convene in designated parks around Europe in order to do so, receiving a playback via GPS tracking.
Seth Jackson, close ally of [PIAS] and founder of digital marketing agency Strange Thoughts (pictured), explains how it worked, and how apps could form an increasingly important role in the marketing campaigns of the future…
What were the most important innovations in the alt-j app and how did they come about?
Slick, invisible GPS tracking which delivered you music with a little bit of wonder and the ability to message those who were also listening to the album in the same location. Both were born from the same motivation – an album written to be listened to in beautiful places. Infectious tasked us with creating a digital, global solution akin to the Ian Dury bench and this is what came out of it.
What experiments/innovations were most successful, and which might you be able to use/inspire future campaigns?
For us the most taxing element was trying to balance users battery life (particularly on Apple devices) with the most compelling user experience. People loved the fact that as they walked towards the parks they had a countdown by metres and then the music suddenly started playing but all of that communication with servers comes at a battery life cost.
Do you think GPS tracking technology will play an increasing role in marketing artists in years to come?
It's old technology – we've used it ourselves to track a piece of mobile music for a Thom Yorke campaign nearly 10 years ago and to fan hunt Dan Le Sac and Scroobius Pip through Bristol in 2010. It's not really about the technology it is about the story around the use-case. Why is it improving my experience as a fan? There is certainly an argument that better data can provide better engagement and using digital technology to activate physical locations is certainly something that we believe has promise.
How do you see artist apps evolving in the next few years?
There was a period where everyone was producing an app as an addition to a website. The app would simply be recycling the same material, perhaps a few dynamic tour dates but essentially not providing anything a well optimised web page wouldn't do on your phone anyway. The powerful elements of an app – ability to use the phones core functions such as camera, microphone, GPS, push messaging based on behaviour etc. These are the very real reasons for using a native application. Great artist apps will always engage, not just inform, and will provide an interactive value over and above web.