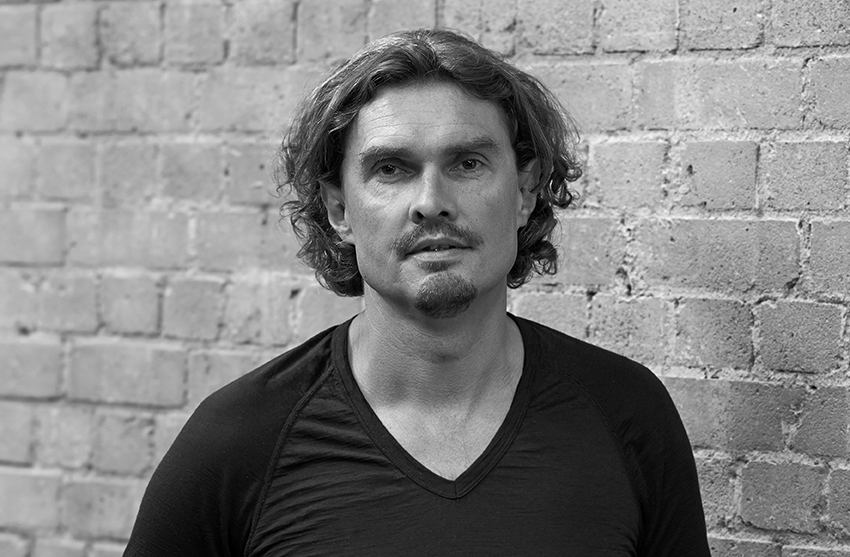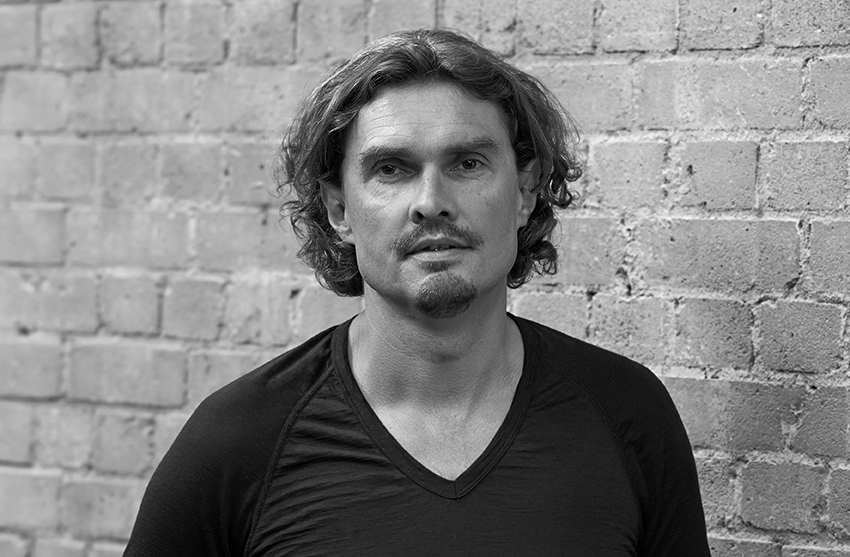 The following blog on digital music comes from Adrian Pope, Managing Director of [PIAS] Artist & Label Services (pictured inset).
It's very healthy for the music industry to be debating the merits of 'freemium' streaming platforms right now – particularly Spotify.
This business is in transition. We're on a journey from ownership to access, and we're all learning every day.
At [PIAS], we advocate a co-existence of free and premium subscription. Clearly we want to see people 'funnelled' into paying but it's not a one-size-fits-all scenario.
To achieve that, we need to ensure that there is a bit of disruption in the freemium experience – that it isn't too easy or too cosy.
If you're serving ads prolifically, the free tier will, by nature, be disrupted. And seeing the likes of Spotify serving ads prolifically is the best case scenario for all of us – Spotify included.
It either generates reasonable income from the free service or encourages adoption of paid subs.
"Please, let's not allow these issues to lead us down the path of forcing caps on the free tier of Spotify."
There are regions in the world where the free experience isn't sufficiently irritating. Iceland, for example, and some of the smaller Latin American territories: not huge markets but with very few revenue-generating adverts served and a relatively high number of streams. Clearly we'd like to see that change.
But, please, let's not allow these issues to lead us down the path of forcing deliberate caps or limits on the free tier of Spotify.
Not least because we tried it once, and it was a big mistake.
At [PIAS], with offices all over the world, we have to think globally. That means remaining educated on the market on a territory-by-territory basis.
So we all vividly remember what happened in Spain a few years back. I wish the major music companies currently pushing the agenda of limitations on Spotify did too.
Here's a recap: In April 2011, at the behest of certain music rights-holders, Spotify agreed to place severe caps on ad-funded listening in five territories – Sweden, Finland, Norway, the Netherlands and Spain.
Less than a year after it was introduced, the plan fell apart and these limits were lifted.
Why? Because it was a disastrous move.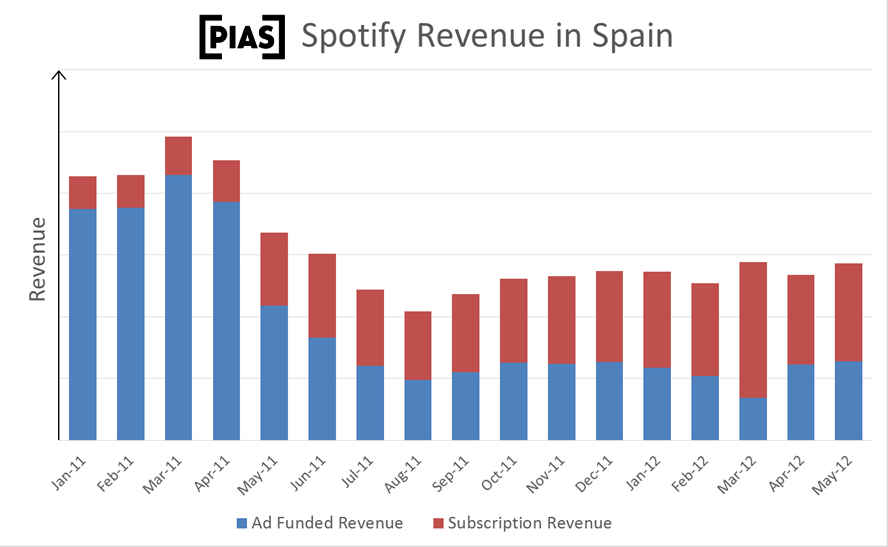 Before this point, the listening and revenue curve of Spotify was going up really nicely for [PIAS] and many other companies in Spain – a market where piracy had previously destroyed legal music's financial worth like an angry swarm of digital locusts.
Finally, it seemed, we were on the road to recovery.
Then Spotify agreed to clamp down on Spanish consumers. Most jarringly, 'free' users could only listen to individual tracks five times before they were left unplayable.
(In addition, they could only listen for a maximum of 10 hours ad-funded Spotify per month after a set period – a further restriction that was eventually dropped in December 2013.)
Can you guess what happened?
That's right: streaming's magical, encouraging growth curve in Spain fell off a cliff. It took revenues 12 months to recover.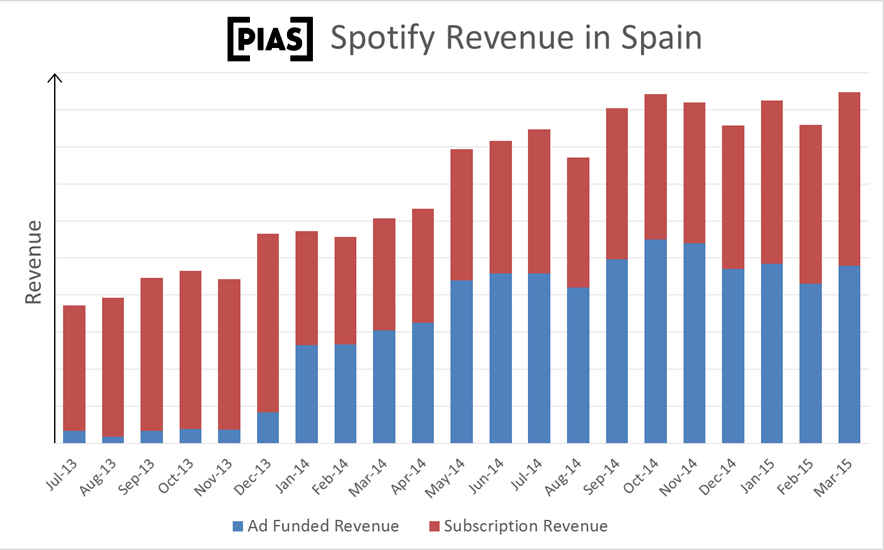 Interestingly, we now generate significant subscription as well as ad-funded revenues in Spain.
Whilst ad-funded remains higher, I'm convinced that the existence of ad-funded streaming is a reason for paid subscription growth: free use is part of the journey to paid use.
Today's whispers of Universal and others putting pressure on Spotify to repeat the same mistake is scary stuff.
The timing couldn't be more ironic: Spain has just started showing signs of a fragile return to growth after a decade of declines.
People there just aren't accustomed to paying for things on a subscription basis. As a business, you need to be sensitive to that – to nudge them along.
That isn't the case so much in markets like Sweden or The Netherlands, where people habitually pay subscriptions for various services, including Spotify.
"[PIAS] wants to see adoption and usage grow together, while ensuring existing revenue streams aren't cut off."
Wherever people need the most encouragement to hand over their credit card details, our industry needs to help make that process as frictionless as possible. Not put roadblocks in the way.
Also, despite its economic malaise, Spain's advertising revenue and brand spend has been pretty good in the past few years – they've got a very healthy TV market, for example.
Consequently, we can't expect their streaming music market to move to 80% or 90% paid subscription anytime soon, but that's sort of okay in my book.
Frankly, and here's the benefit of hindsight once again, I remember when Spain's physical business was in the toilet and piracy was rife online. Today, Spotify ads are generating revenue that simply wasn't there before.
As an industry, we're in a sensitive period of transition. How long that transition lasts is dependent on a number of factors – availability, consumer adoption, ease of use etc.
[PIAS] wants to see adoption and usage growth develop alongside one another – while ensuring existing revenue streams are not cut off at the knees.
What works for one market will not be replicated everywhere, nor at the same speed. Differing adoption trends, economic climate and cultural nuances all play a role.
The co-existence of streaming and physical, for example, is really exciting – Germany's 1.8% growth last year, in a 75% physical music market, gives us a promising illustration.
We also see strong growth of streaming across Latin America, where revenues for [PIAS] increased significantly in 2014.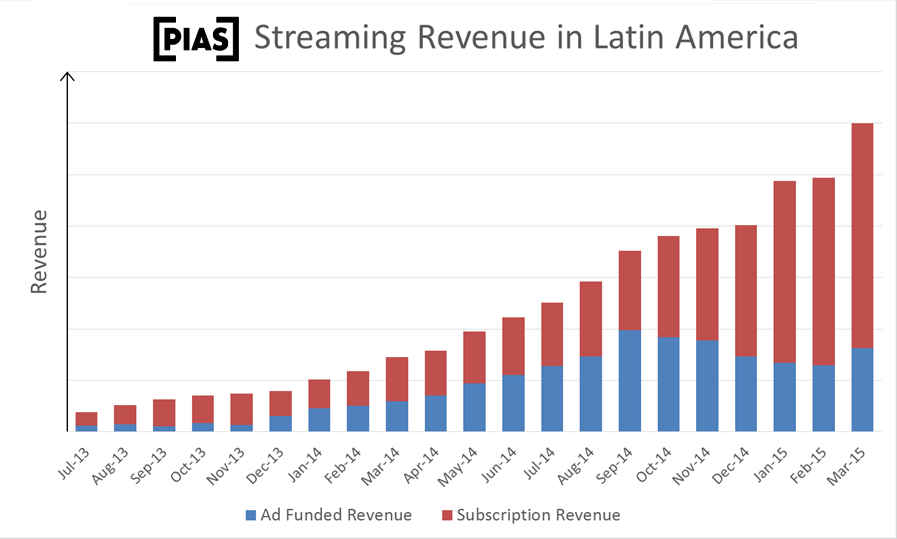 The music business should be concentrating on improving the quality of the user experience – working out windowing and availability and lobbying DSPs to sell more ads, better. Not wasting its energies on forcing Spotify to make errors that – as history's taught us – thwart growth and alienate potential paying customers.
We should all be extremely wary of being tricked that limitations on freemium will help us return to 'the good old days'.
Around 15 years ago, I remember doing a bit of research into the average spend per household in the UK on music. Even in the height of CD sales, peaking in 2004, it was surprisingly small.
As I recall, on average, around six CDs were being purchased per year, per UK household.
That's per year, not per month.
If you start from that benchmark and consider the proliferation of Sonos and other technologies that make streaming seem a 'got to have', we've got a long way to go.
If you then consider the growing appeal of telco music bundles and the availability of Spotify, Deezer, Google and Napster (plus whatever Apple's got up its sleeve…) then an average household spend on all formats of music which tops £60 a year really doesn't seem out of reach.
Guess what? That's equivalent of 6 CDs. A.K.A: 'the glory days'.
"The appeal of streaming is dependent on immediacy and availability. Take it away, you kill the joy."
Back at the height of CD, there was a key benchmark used to determine the likelihood of technology securing mass market adoption: hitting 5% of households in 5 years.
That formula was beaten by DVD, then smashed in the UK with Sky broadband and overseas with Netflix.
The rules of the game have changed. Streaming services have a very real potential of tipping into a mass market adoption – and doing so faster than many expect.
The big question, of course: how do we get there?
Part of it must involve engendering confidence in the user experience in the first place.
Remember the joy of that first afternoon when you realised you could stream any track that pops into your head at the touch of a button?
It's a powerful moment for music. Harnessing it is the key to a prosperous future for the industry.
But this appeal is completely dependent on immediacy and availability.
Take it away, you kill the joy.
Let's not clamp down on tomorrow's customers for no other reason that impatience and short-term greed.
Now is the time to show some faith.
If we work collaboratively with our retail partners to ensure a fair return for music whilst not killing off consumer demand as a knee-jerk response we might just be building something meaningful and long lasting.
A free user today is not going to be a free user forever.