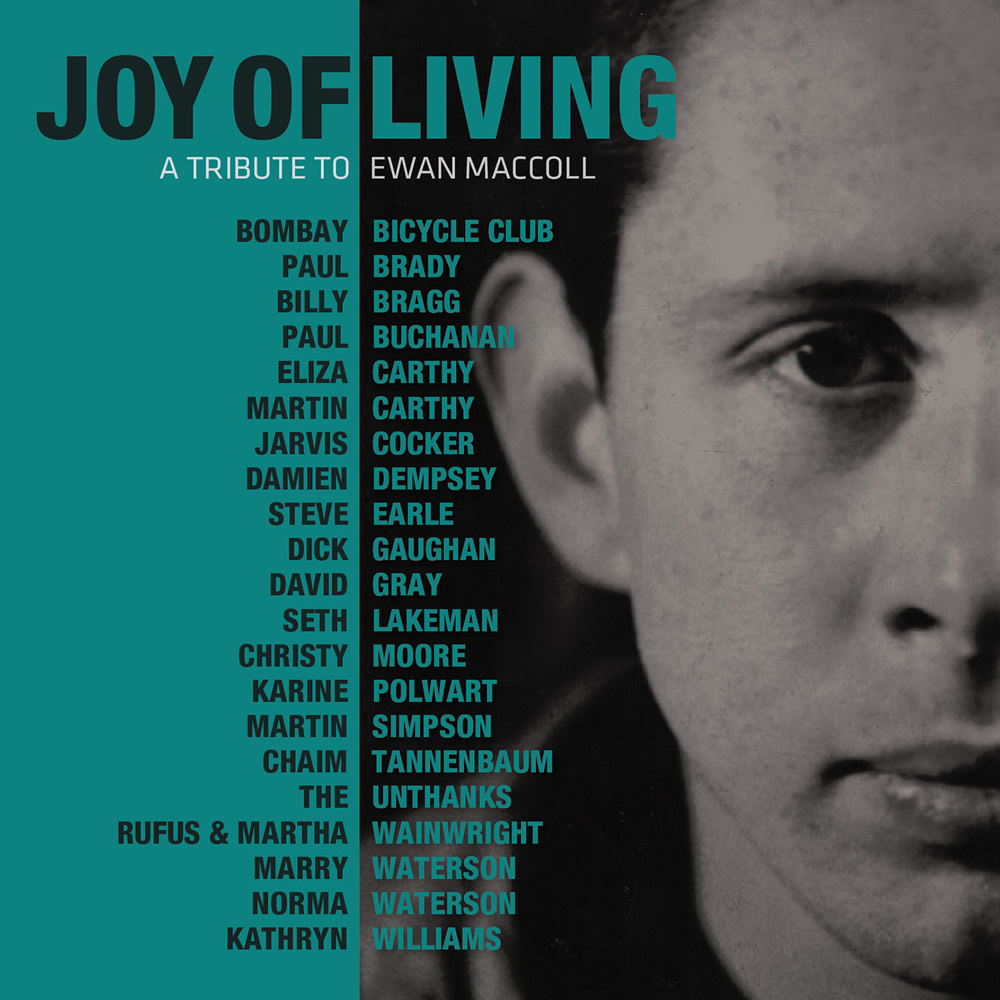 This Friday (October 30) sees the release of Joy Of Living: A Tribute to Ewan MacColl.
The double album, featuring performances from the likes of Billy Bragg, Rufus & Martha Wainwright, Jarvis Cocker and Martin Carthy, will be released via Cooking Vinyl – the label of The Independent Echo's star interviewee this month, Martin Goldschmidt.
Below is a piece from Calum MacColl, the son of folk legend Ewan and a key factor behind the creation of Joy Of Living.
---
My dad was Ewan MacColl – playwright, singer, songwriter, lover, hater and all round political animal. He was a massive and undeniable influence on me (and all his children).
He was forged between the wars, a child of the Great Depression. He passionately believed that the ruling classes had slowly killed his father and condemned his mother to a lifetime of drudgery through unemployment and poverty.
This self-educated man was brought up in a hothouse of left wing politics, traditional Scottish song and an unending thirst for knowledge that was to inform the rest of his life. More than anything, he loved life itself.
Dad brought us up with his infectious passion for walking the hills and mountains of these islands, as well as his love of literature, music and song. It was all the same thing to him, so us kids just soaked it all up for what it seemed to be.
"Dad believed the best folk song had been edited in the mouths of generations, leaving just the skin and bone – no fat."
He taught us that reading a book, singing or writing a song was as straightforward as walking on Bleaklow.
Dad believed that the best folk song had been edited in the mouths of generations of singers, leaving just the skin and bone that could tell a story most effectively. No fat.
I grew up watching Dad write songs with the same ethos, whittling them down to their sinewy essence. He aspired to writing songs that could almost be confused with folk songs in their sparse beauty.
Dad was a hugely passionate man in everything he did, particularly in the way that he made music. Whenever he performed he was committed, he was living in that story, in that moment. His performance approach developed into a kind of belief system, and he was a notorious harsh (and opinionated) critic of anyone with a different approach. Which was… difficult! It left his children with much to admire, much to live up to and much to shed.
All musicians and performers are insecure, convinced that they're about to be found out – I've never met one who isn't. I think that Dad was as confident of his validity, ability and world view as anyone could be – but he was convinced that he had the right to do what he was doing.
Me, my brother Neill and sister Kitty have been wanting to put out a collection of the best of his songs for a long time, but it has taken time to get it right. Going back thoroughly through the catalogue of songs that he left behind, we were spoilt for choice. We were so convinced of the lyrical and melodic quality of the songs that we knew they would work in lots of different ways and wanted to hear how other singers and musicians would interpret them.
We started the process by selecting two dozen of our favourite songs – not necessarily what other people might think are his best songs, but the ones we really loved. We figured that maybe half the singers we approached would say yes, and we'd have an album. To our surprise, virtually everyone said yes, so we now we think we have a fabulous double album.
"To our surprise, virtually everyone said yes, and now we think we have a fabulous double album."
We wanted to give each artist a completely free rein to hear the songs in their own way. One thing that marks out a good song is the ability to retain its integrity when stylistically reinterpreted and we wanted the artists to stamp their individual mark on them.
'The First Time Ever I Saw Your Face' is probably Dad's best known song, performed on this album by Paul Buchanan. There's not much to say about it that hasn't already been said. It's been used and abused over the years and it's still a great song…
'Dirty Old Town' was created in order to cover a scene change in a Theatre Workshop production of a play Ewan had written. The play (and the song) is about Salford and his love/hate relationship with the place of his birth. The place described sounds a bit like whatever town anyone is from. Perhaps that's why it has universality and success. Here, we've got Steve Earle doing his take.
The 'Moving on Song' was written in the 1950s for a ground breaking documentary series, the Radio Ballads and for 'The Travelling People' in particular. Like the majority of Radio Ballad songs, the lyrics were made from the real experiences of interviewees, in this case, Travellers and Gypsies. This version is presented by one of the great English folk voices, Norma Waterson.
Ewan always loved mountain walking. Mountains were like people to him – incorruptible, honest and strong. 'Joy of Living' is sung on the album by David Gray and was Ewan's farewell to the hills, to his partner and his children ; his last love song to them all.
Dad's songs all have a clear and distinct meaning and internal voice – that's what makes them strong.
We are blown away by how good the new versions are. I think he would be too.