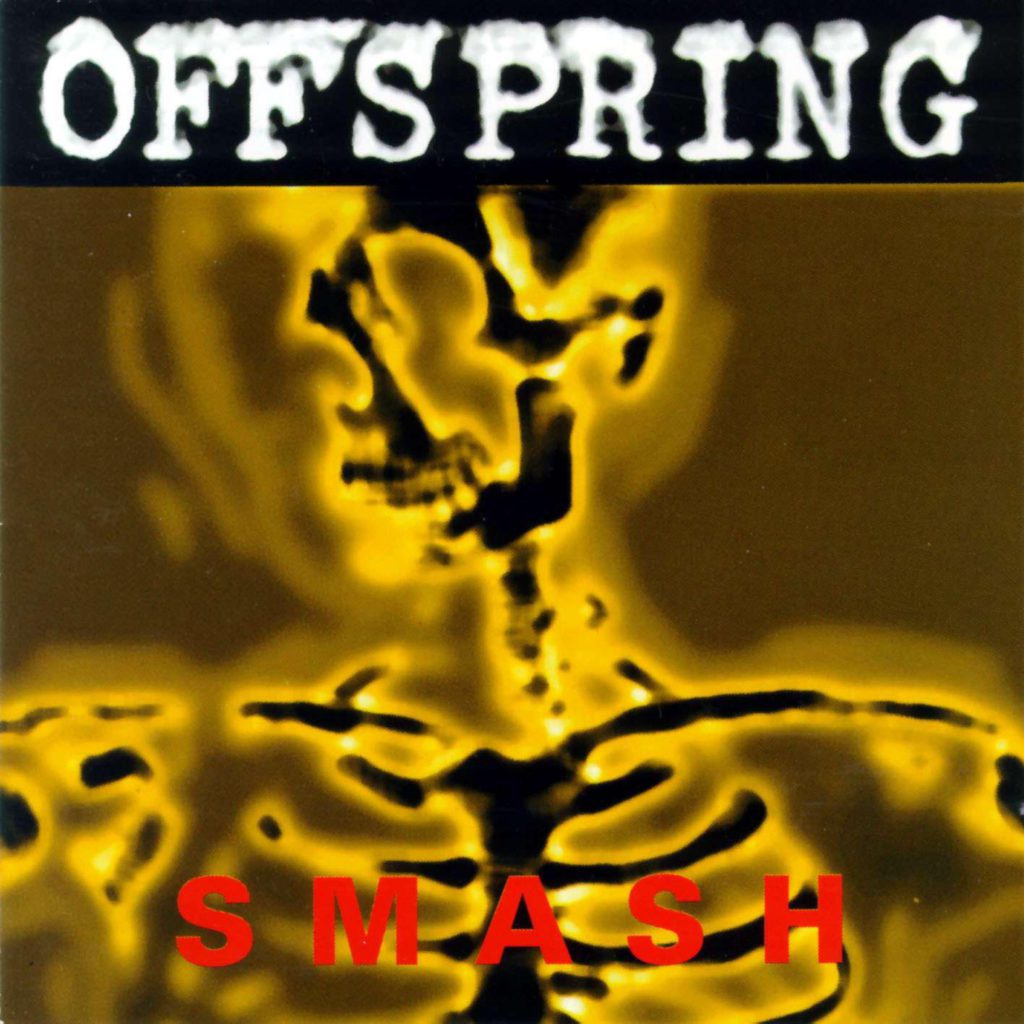 Eleven million album sales.
Once upon a time – not that long ago – the independent music community could only dream of such a number.
These days of course, we live in a post-Adele world, where ludicrous commercial achievements seem that bit more possible for indies everywhere.
But back in 1993, an eight-figure album sales haul seemed literally impossible to anyone outside of the major labels.
That was before The Offspring's Smash came along, on Brett Gurewitz's feisty, irreverent Epitaph Records.
This was a watermark moment for the ambition of independent labels.
Gurewitz admits that major record companies started making persistent attempts to acquire Epitaph once Smash started blowing up. Yet, for good reason, he resisted.
Inspired by the DIY success of NWA, Gurewitz kept both the record's label and its European distribution (which [PIAS]/Vital took care of) completely independent.
"Part of that is loyalty, but part of it is that I'm a punk rocker, man," he explains. "I always root for the underdog."
"I'm a punk rocker, man. I always root for the underdog."
Gurewitz has stood by this philosophy ever since setting up Epitaph while at school to issue records by his own band, Bad Religion – founding fathers of the West Coast punk scene of the 1980s.
For the man on the street, Gurewitz is better known for his musical work than his legendary label, largely thanks to renowned Bad Religion albums including Suffer, Recipe For Hate and 1994's Stranger Than Fiction – their one and only major label release, on Atlantic.
In addition to Bad Religion and The Offspring, Epitaph has made waves with influential records from bands such as NOFX, Pennywise and Rancid, while, more recently, it's signed the likes of Bring Me The Horizon, The Menzingers, Parkway Drive and even Weezer (for 2010's Hurley album).
Meanwhile, from punk beginnings, sister label ANTI- has become a home for legends and gonna-bes from all genres, including Merle Haggard, Marianne Faithfull, Kate Bush, Nick Cave and Tom Waits.
This success hasn't always been a smooth ride for Gurewitz: he suffered from various stints of serious drug addiction throughout his career, before successfully 'getting clean' in rehab in the late '90s.
[PIAS]'s Kenny Gates (pictured right) sat down with Gurewitz (pictured left) to get the measure of Epitaph today, to delve into its punk rock beginnings – and to discover how Smash changed everything both for Epitaph and the aspirations of the wider independent community…
---
Do you remember the first time we met?
Now you're putting me on the spot. Was it Midem?
---
I don't actually know myself…
Phew! I don't remember either, but that's not saying much. The Eighties were very good to me, Kenny.
---
We'll come back to that. So… Gurewitz. Is that a Polish name?
It comes from a town in the Czech Republic called Hořovice. I'm third generation Los Angeles. My great grandfather had a candy store in LA. And on my mother's side, my grandfather was from the Ukraine.
---
How was school for you?
I didn't flourish in school. I was a wild child.
---
A rebel?
I turned into a rebel, maybe. But as a young kid I had behavioral problems, and that turned into taking a lot of drugs. And then punk rock and all sorts of things. I didn't even finish high school. I wasn't equipped for the format of school.
---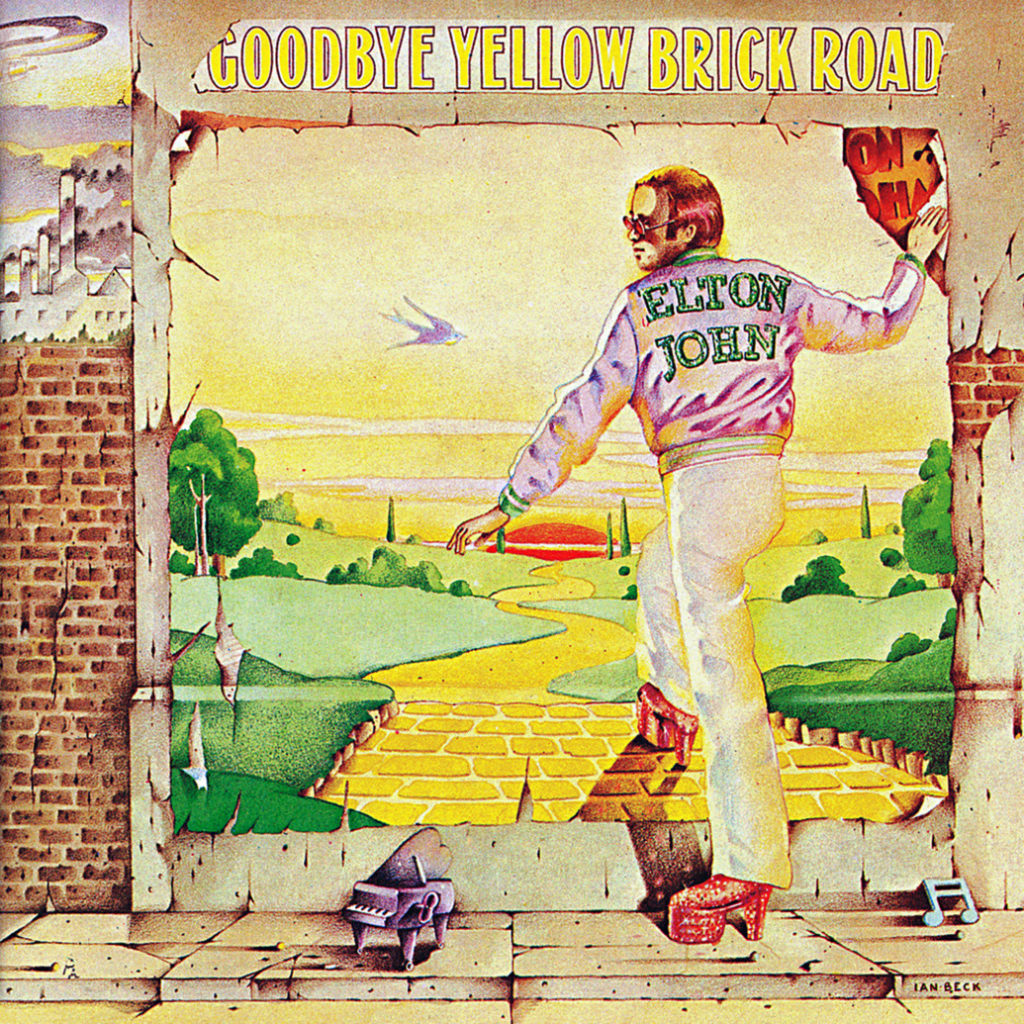 When did you first encounter music?
Music has been my great passion for my entire life. My first memory of music is my grandmother, Frida – who to this day is my favourite person I've ever known.
She used to hum and sing to me when I was a little child.
The first record I remember was The Beatles, Yellow Submarine, but the first record I bought was Credence Clearwater, Cosmo's Factory. I was too young to buy records but I asked a kid on my street about it.
In the '70s I fell in love with Elton John on AM radio. My mother took me to see him at the Los Angeles Forum in 1975. I was 13.
"I saw elton john when I was 13. It was a religious experience. I shit you not."
It was the height of the glam era, the Yellow Brick Road tour. He had strings from the LA Philharmonic, the Tower of Power as his horn section. It blew my mind.
It was a religious experience, I shit you not.
I'm not a religious person at all. I don't like superstition; I love philosophy and discovery. I mean, I was in a band called Bad Religion – religion's obviously not my cup of tea. But if I were to make a metaphor, what's taken religion's place in my life has been music.
People need something to fill their soul. I think religion does that for some people. And scientists have shown the centres of the brain that light up for religion are the same that do when you hear music. The feeling is processed in the same part of the brain in similar ways. That makes a lot of sense to me.
---
Bad Religion was formed at school, right?
Yeah. El Camino High School. There were probably only four punk rockers in my high school. Me and my friend Tom were punk rockers. We didn't know any others.
Then Tom found these other two guys who were a year younger, Jay and Greg.
He introduced us: 'You guys are punk too. We should form a band.' That's literally how it happened.
---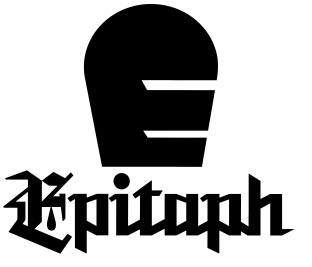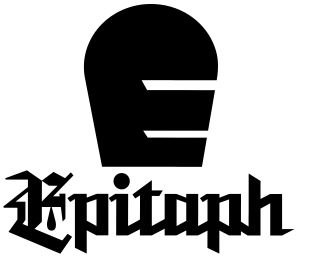 So you had a band, you needed a label and that's why you decided to start Epitaph?
It was a logo and a PO Box. Both Greg and Jay came from families with single working mothers. They didn't have a lot of money, everything was very hand-to-mouth.
I'm not saying my family was wealthy, we were middle-class – my dad is an entrepreneur; he has his own business. He was very encouraging and lent me the money to press the records.
---
So your parents supported you? They didn't want you to be a doctor or a lawyer?
It wasn't like that. To them, this was like a lemonade stand: 'Oh, isn't that cute!' They didn't see it as a business, but it was something positive.
---
And the name Epitaph comes from a King Crimson song? A punk rock label using a prog rock band's lyrics for its name?
Well, Crimson's pretty punk – in a way.
I know it's confusing to a lot of people, but in '76 and '77, I hadn't heard of MC5 and Iggy & The Stooges. I was listening to avant-garde weirdo music – the prog stuff.
All the cool kids in school were listening to Led Zeppelin or Peter Frampton.
"I was listening to genesis, yes, emerson lake & Palmer, kraftwerk."
[I] was listening to Genesis, Yes, Emerson, Lake & Palmer, Kraftwerk. I was into prog, but I was into glam too – especially Alice Cooper and David Bowie.
Greg [Graffin, Bad Religion co-founder] also really likes prog , and we put so little thought into it: 'We need a name to put on our first 7-inch.'
Epitaph was a cool word, from that Crimson line: 'Confusion will be my epitaph.' It's kind of a resonating message when you're a teenager.
---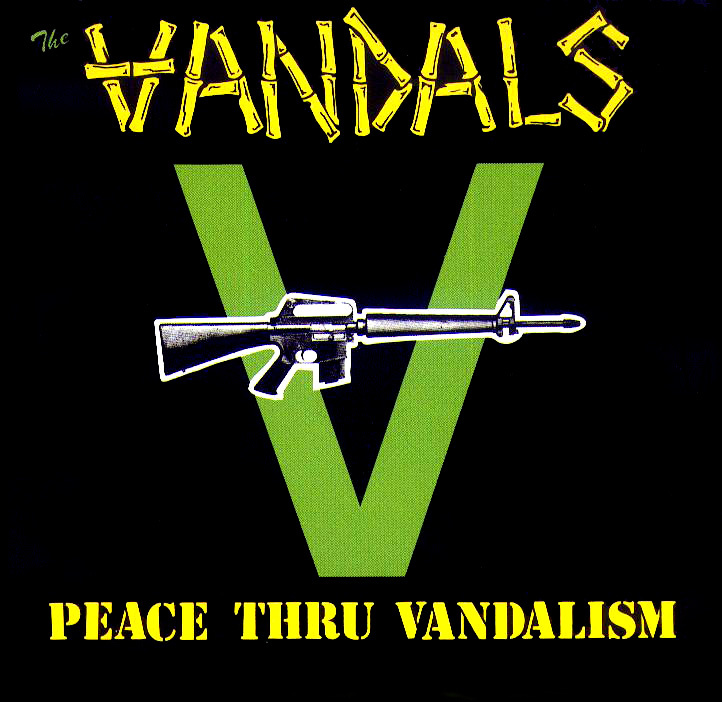 What was the first band you signed to Epitaph as a label – not just your own band?
The first thing I ever did was The Vandals and their record Peace Thru Vandalism, which became a classic album.
I put it out and I even sang backing vocals on Anarchy Burger. At that time I was in high school and literally didn't know how to do anything and I didn't pay the band any royalties.
"I literally didn't know how to do anything and I didn't pay the band any royalties. To make amends later, I gave the record back to them."
To make amends for that later, I just gave the record [rights] back to them. So I don't have Peace Thru Vandalism on Epitaph anymore.
Joey from The Vandals actually used that record to launch Kung Fu Records, so it's all fine.
---
You have many professional lives: you're a record label executive, a guitar player in Bad Religion, owner of a merch company (King's Road Merch), a publishing company (Mothership Music) and even an indie comic book publisher (Black Mask Studios). However… you're also a producer. How did you learn production?
I've always loved production and been fascinated with technology. I started recording at home with a 4-track cassette player in the '80s. When I got in a band I was naturally drawn to recording. I had a job and went to night school to learn how to record, then started using my band as a guinea pig.
At that time I was working as a salesman at a record distributor called Sounds Good Imports in Santa Monica. They specialised in buying British imports and bringing them into the US two weeks early, before selling them to the record stores.
I had a roommate at the time, who is no longer with us, who came into some inheritance. He was in this class with me and had a little bit of money and said: 'Let's start a recording studio!'
So that's what we did: West Beach Recorders. I was 19 or 20. I went to my boss and said, Me and my friend have a recording studio and I know how to put out records – I'd put out Bad Religion and The Vandals at that point.
I said I'd still work [at Sounds Good Imports] as a salesman, but why not give me a P&D deal; give me a little bit of money and I'll find bands and record them, then we'll put them out. That was the real beginning of Epitaph.
---
Has your experience as an artist informed the way you treat other artists?
At that time, I was really part of a scene: punk rockers in Los Angeles. We all knew each other. If you saw a punk rocker on the street and you didn't know him, you got to know him. It was a very close-knit scene.
I knew most of the other bands and a few punk labels – SST, Slash, Posh Boy and Frontier. All the bands always said the labels were ripping them off – always.
I was already not the most popular kid – I got in a band to be more popular! – and I didn't want to lose all of my friends.
"I didn't want to lose all my friends, so our innovation was really being artist-friendly."
Plus I'd had the experience with The Vandals where I didn't take care of the accounting, and I knew that wasn't cool. I didn't ever want to be on the wrong side of artists and musicians. That's my tribe – I am one.
So I decided if I was going to do this, I'd do it in a way where I didn't lose friends over it. I wanted to be fair and respectful to my tribe, my people, and that's what I did from that moment on. It became my mission statement.
I don't know if it's true or if I'm just being prideful, but I feel like we were one of the first indie labels where our innovation was really being artist-friendly and being fair and transparent. Not just saying it, but paying.
---
What kind of deals were you doing? Royalty deals?
Yes, royalty deals, but I was paying mechanicals from day one [as well]. I figured out that a mechanical plus a royalty together is roughly one third of my revenue.
So if $9 came in, $3 was owed to the artist. I wasn't sophisticated – this was before the PC revolution.
"If $9 came in, $3 was owed to the artist."
I opened two bank accounts: if $1,000 came in, $700 was for me to run the business and pay my salary, and $300 was so I could always pay royalties.
I did that until I had five employees and could afford a bookkeeper. But I knew that way I wasn't dipping into the artist royalties, so I wasn't going to lose any friends over it.
---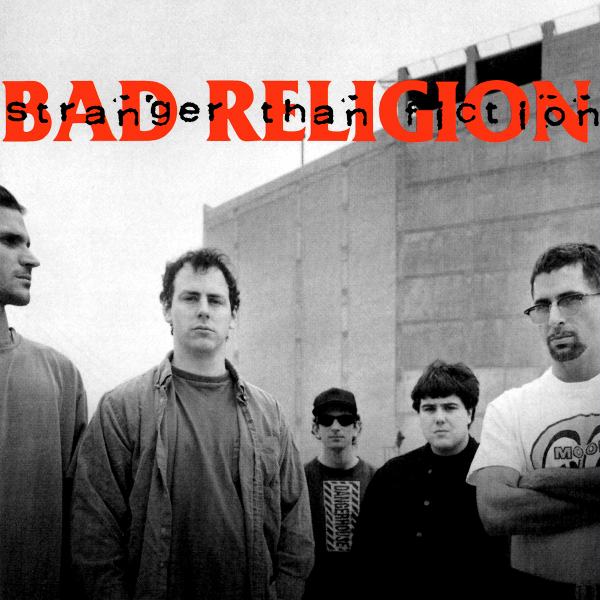 Tell me about when Bad Religion signed to Atlantic for Stranger Than Fiction. Was that a trauma for you?
Yeah, it was. I don't know if it should have been, but it was.
To put it in perspective, I mentioned that I had a lot of experience with drugs in high school and so forth. In 1987, I got clean and sober – right before [Bad Religion] put out Suffer.
I was 25 years old. I wrote it with Greg, and produced, mixed and recorded it myself. It did very well. Then every band I signed started doing well too.
Over the next seven years, Bad Religion put out seven records – and I was growing my business, my label and my recording studio at the same time. And we were touring!
"A young band can't just tour on one record forever."
Our touring schedule had to be part-time because Greg was going for his Masters and his PHD. We could only tour in summer because of his academic ambitions, which helped my business ambitions. It also had the result of us prioritising the recording.
That's something I talk to young bands about today: there's a lot of good bands out there, and you can't just put your focus on touring. You've got to put your focus on writing.
You have to work on your writing, and you have to be prolific. A young band can't tour on one record forever.
---
So, you've released Suffer on Epitaph, and over the next seven years, Bad Religion keeps on growing and growing…
By 1994, we were quite big – selling hundreds of thousands of records around the world, when Atlantic noticed us – Mike Gitter from Atlantic.
I was married with two kids, going through some stuff in that area. Seven years with seven records and seven tours in a band can create a lot of relationship issues as well.
Atlantic came and said: we'd like to sign you to a major label deal. And while that was happening, The Offspring started blowing up [on Epitaph]. Their record literally went gold while we were talking to Atlantic – putting Epitaph on the map.
It was a moment in time when indies could blow up – NWA's Straight Outta Compton was going platinum, on an independent label.
"Even though I've been successful, I'm an insecure person."
It made me realise that major labels don't have a secret sauce, a magic spell, to make something a hit. It can happen for anybody. Right as my band has its big chance to sign with a major.
This created a lot of inner conflict for me: I wanted my band to sign to Atlantic, because I wanted to see what could happen for us. In the back of my mind, I always have self-doubt. Even though I've been successful, I'm an insecure person.
Epitaph had become a big company, but I didn't know if that was a fluke and it was never going to happen again.
We voted in the band, and I voted to go to Atlantic. But in my secret heart, I wanted [the rest of Bad Religion] to say: "Don't be silly! We're staying with Epitaph!" But they didn't. They're not mind-readers.
---
And they were probably thinking: if Brett's saying let's go to Atlantic…
Of course. Part of me wanted to try a major label. It was very flattering.
Nirvana had just gone platinum. We had a chance to have Andy Wallace produce us, who'd just done Nirvana, Rage Against The Machine.
It was very controversial for a punk band to sign to a major at that time. Bad Religion got a lot of criticism for being sell-outs for signing to Atlantic.
---
And you quit the band after that?
Yes. I wrote the record and recorded [Stranger Than Fiction], but I quit after.
It wasn't because of any one thing, but put yourself in the perspective of that time.
Here I am, it's 1995, and I'm in a band I started in 1981. We've just put out our big major label record with some of the best writing maybe I've done, and I'm now 32 years old.
"It was 1995, I'd been in a band for 14 years, I was 32 years old and my business has just done $50m."
I have my business, which is putting out other punk bands. And [largely thanks to The Offspring's Smash] it did $50m that year.
It seemed like an opportune time to make a change in my life: from being in a rock band to working for other rock bands.
At the same time, I was struggling with the sudden success and the sudden money. I don't feel like a rich person. I'm a middle class person with too much money! I wasn't prepared.
I was living in a very modest apartment when it all happened.
---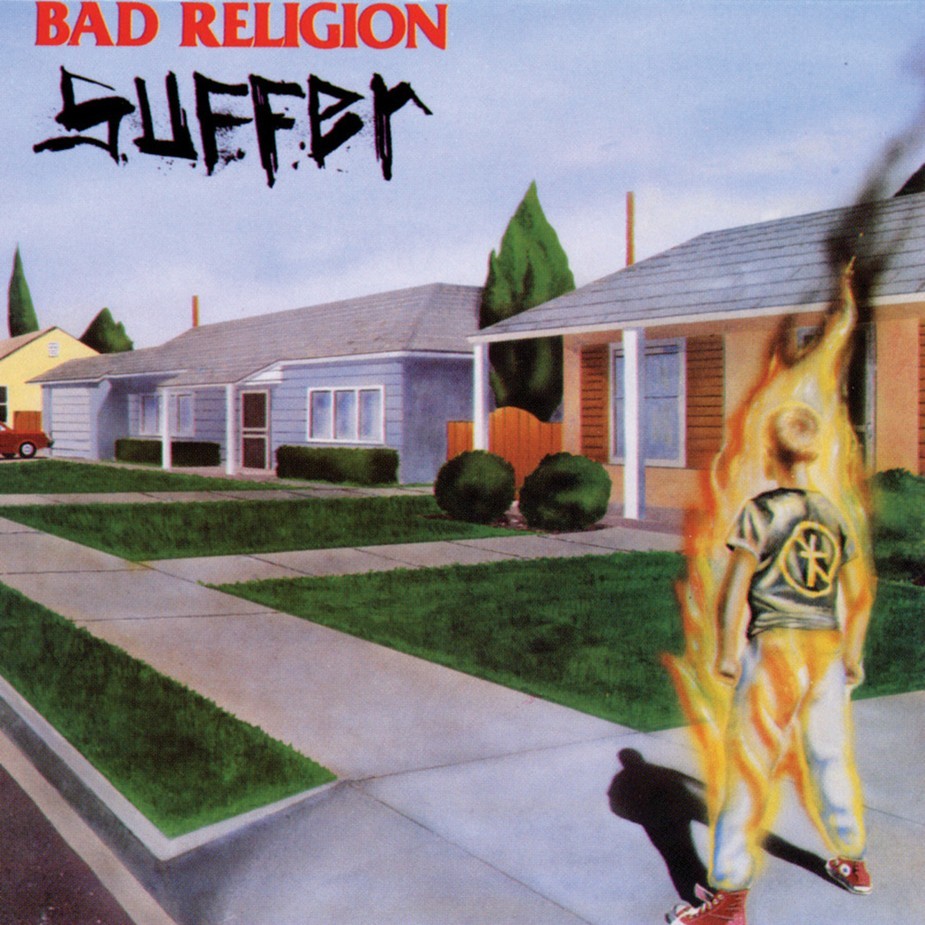 So tell us the story of Smash.
It's really a story of Epitaph's success in the '90s.
In the late '80s we put out this Bad Religion record, Suffer (pictured). And Bad Religion started this trajectory where each record got a little bit bigger. Our sound was quite popular.
At the same time, Operation Ivy put out an album which really was a wake-up call in California for the [punk] scene. I made Suffer in my studio, West Beach Recorders.
Fat Mike from NOFX loved the record and came to Westbeach Recorders to record. He wanted that sound.
I was making a living as a recording engineer at that time, more than anything else. Other bands started coming to me saying: 'We want that sound from Suffer.'
And to the really good ones I'd say: 'Do you want to put a record out?' I signed NOFX, then Pennywise, then Rancid, and then I signed Offspring.
"What was the difference with the offspring? Getting struck by lightning."
There were a couple of bands in-between, but for the most part those were my first five signings.
Epitaph got a real reputation: there were fans of the label. It's different today, but at that time I could put out a new record, and everyone who were fans of the previous [Epitaph] record would try it.
When we put out Offspring, their first record, Ignition, sold 30,000 to 50,000 copies, within the scene. Most of my bands would sell 10,000 [on their first album], then 30,000 [on their second], then 100,000 [on their third].
Offspring sold 10,000, then 50,000… then they sold 10 million.
You might say, how? What was the difference?
The difference is you getting struck by lightning, or the house across the street getting struck by lightning.
---
Did you record Smash as the engineer?
No, I recorded the demos. They hired Tom Wilson, who had also done Bad Religion records. He did Ignition for Offspring as well. He's no longer with us but he was a brilliant producer.
---
How did you deal with that sudden success?
Well Smash didn't sell 10m in its first year – it sold 3m to 5m. And then all of the major record labels came calling, of course. They offered very nice deals.
The thing that gave me the courage to not do a major deal with NWA, straight Outta Compton. That was an indie through RED, and so was I.
"For better or worse I didn't sell a portion of epitaph. The biggest deal I turned down was $50m."
All the majors said you can't be an indie and reach this level of sales. Well what about 'F*ck Tha Police'? How's 'Come Out And Play' any different?
For better or worse I didn't sell a portion of my company. The biggest deal I turned down was $50m.
---
To buy Epitaph?
To buy half of Epitaph.
---
You were overwhelmed, presumably. Is that why you got back into drugs?
Yes, I was overwhelmed. I did not handle it well. I thought okay, well now my picture's in Billboard and Hits Magazine all the time, I have money… it's true my relationships are all in turmoil, but now I have this safety net [so] I can use drugs on the weekend and enjoy myself. I'm not a kid anymore.
So I started using drugs and alcohol on the weekends, but it didn't work. I had a very rough time for about three-and-a-half years. It's fairly well-documented. But then I got clean again.
I don't mind saying I'm a drug addict and I have problems with mind-altering substances. But in my life I've been clean seven years, and then 17 years. So I'm a drug addict who's been clean for 24 years!
I mention it because really all I have is today – I could decide to blow it today, although I don't plan on it.
For people out there in the same shoes, there is hope. You can do it.
---
Were you annoyed when The Offspring left the label?
Yes, I was. It was a three-record contract. They delivered two records and we were in talks about the third one.
I was very surprised to find out that they had signed to Sony for it. And I think Sony was very surprised to find out that they owed the third one to me!
"I was very surprised to find out the offspring had signed to sony for that third record."
What I regret is all the negativity that I shared publicly. I could have kept my mouth closed.
I'm not a negative person. Me and The Offspring had some bad things to say about it each other publicly at that time.
---
So is a hit album a curse or a blessing for a label?
It's of course a blessing but a lot of times it can destroy you.
---
There's that big void after a hit: 'What do I do now?'
That's right. You have to have a little bit of foresight. I had seen it happen at Delicious Vinyl.
I'm an LA boy: there are indie labels here that have hits, going back to the '50s. I'm a student and I try to learn from not only the people around me but historical examples.
"I didn't buy a yacht. I bought a building."
I realised when we had that big hit that I had to plan for the future. I didn't buy a yacht. You know what I bought? You're sitting in it – a building.
I tried to be smart. It was a building in a terrible neighborhood, which is now the best neighborhood in LA. I got lucky again.
---
No. You have good instincts.
You can prepare the ground for luck. That's all.
---
What's the meaning of punk rock to you? A musical genre? A way of life?
It's a musical genre. I'll expand on that.
Rock'n'roll is the best thing ever invented. It's the fucking best thing. Other than food and sex, it's a very close third. You just need the other two to live, so you can enjoy rock and roll.
Punk rock is a kind of rock and roll. It started roughly with Iggy or The Ramones or The Pistols – I'm not getting into that fight.
It has a sound, a fashion and an attitude. Punk rock as a genre has ramified and branched into almost every significant kind of rock music we have today.
[video_youtube id="r7Hb4bxF12E"]
It's almost as influential as the blues was to a previous generation – although, of course, even punk rock is based in the blues. Blues is the grandaddy.
But punk rock turned into indie, and garage, and techno, and straight edge – all kinds of shit.
Too much is made out of: what is punk rock? I know original, creative, courageous thinkers who aren't punk rock. A lot of people in punk rock are too reactionary – they think everything else sucks. 'I can't like dance music, that's not punk.'
Punk rock was a movement that was very influential and relevant to what it meant at that time.
---
Are there still punk rock kids today?
There are some. That's the thing about musical genres – they never go away. They just go into hibernation. There's still psychobilly kids, ska kids, goth kids…
If a scene comes about someone likes, they'll keep it going. The thing is, this is dangerous to say…
I am friends with people who are still punk through-and-through. Lars from Rancid is a punk rocker, he's never going to change – same for Fat Mike from NOFX.
They're original punk rockers. It's part of their DNA.
But there's young kids today who, when they do it too exactly, it seems a bit like role play. But I'm not standing in judgment of anybody: if kids do it and they like it, then that's for them.
---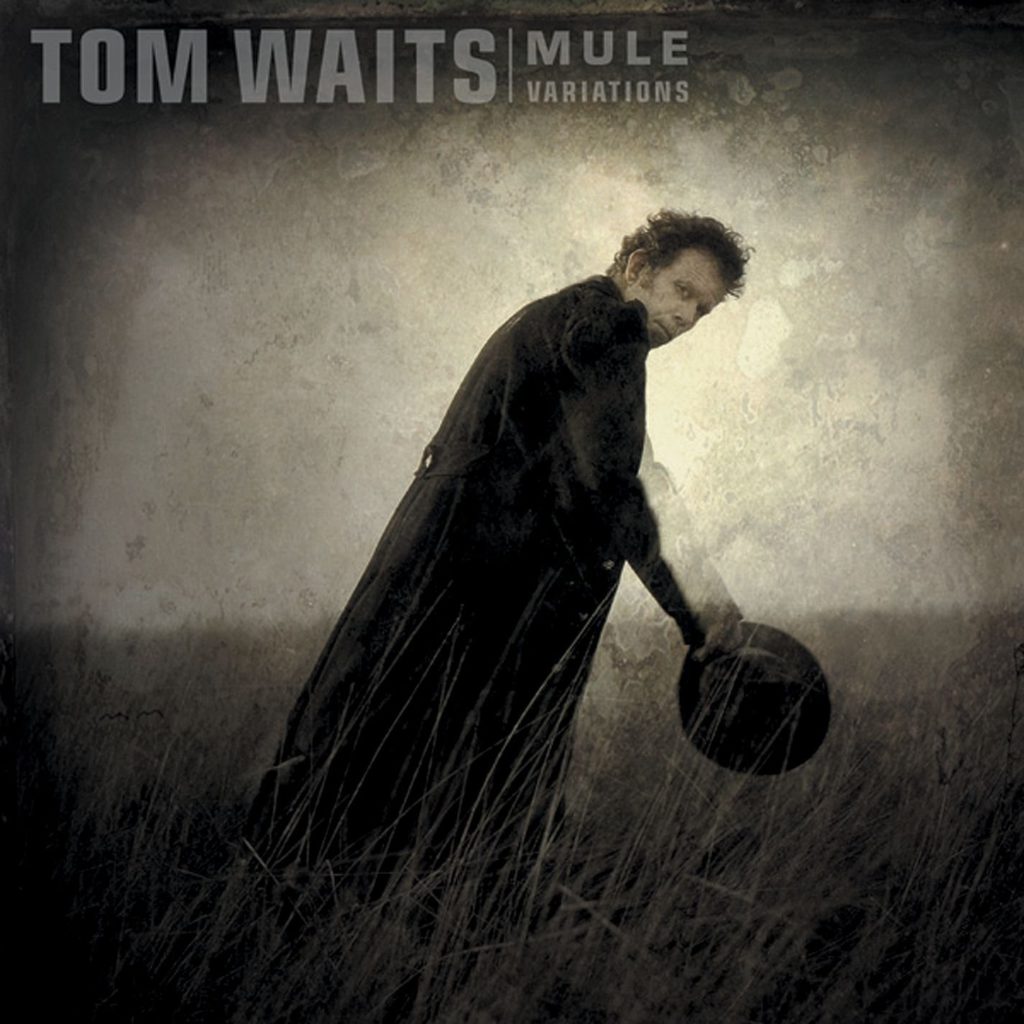 What was the high point of your career up to now?
Working with Tom Waits on Mule Variations. I think he's one of the most significant artists in the history of music.
That's the moment I decided not to just be a 'punk rock label' – or a punk rock kid. It's when I said to myself: 'This is wonderful but I think I have a chance to be more.'
Tom is such a profoundly great artist. That was a peak moment for me.
---
How did you get to meet Tom?
Donald Passman [author or 'All You Need To Know About The Music Business'] called me up out of the blue and said: 'Hey, would you be interested in working with Tom Waits?'
I said: 'Donald, if you're serious, then I'm going to send you a blank piece of paper, and that's the contract. Just fill it in.'
---
Good karma.
Exactly. You stick to your values. When you give something up, sometimes you get something much better later.
---
Who are your mentors in the business?
In the early days, I don't think he's kept a focus on his business, but I really looked at Greg Ginn at SST was doing. He was a guitar player in a band like me, putting out his band's records and signing other bands. They had Sonic Youth and Black Flag. That was very influential – not his business practices, but the fact he could just do it.
I would be remiss if I didn't mention Suzy Shaw, who was my girlfriend for many years. She ran Bomp Records. Some would say it was the first punk label in the US. IT came from the fanzine Who Put The Bomp…
Suzy ran the record label and really taught me a lot about the business. They had groups like Devo, The Dead Boys and they put out some Iggy stuff.
I've learned a lot from my predecessors. Lionel Conway, the founder of Island Music and one of the great pre-eminent music publishers who signed Tom Waits, Cat Stevens and U2 has been a mentor of mine over the years.
---
We all have the loneliness of being at the top as business owners. Do you realise that you've achieved something extraordinary and meaningful? Do you allow yourself that pride?
No. I have discovered for myself that ego is not my amigo. And I've worked very hard to cultivate spiritual but non-religious values: humility, compassion, equanimity.
"It's not lunchtime yet and I've meditated twice. I don't fuck around with that stuff."
This may surprise you: I have a mediation practice I've been doing for 35 years. It's not lunchtime yet and I've meditated twice. I don't fuck around with that stuff.
Thinking about my achievements is a dangerous place to me.
---
So why do you still do this?
Because music is my great love.
I love my family and friends and my relationships. But music fills me up. It gives my life meaning. It's not just the sound vibrating in my eardrums.
I like to write a song. I like to help an artist write a song. I like to help a young artist focus their energy and achieve what they want to achieve. That's my high. There's nothing better.
---
Do you think you're romantic?
My wife says I'm not sentimental. But I think I am!
---
Matthew Johnson, when I interviewed him earlier this year, said: Brett bailed me out. I was in deep shit. I needed $150,000 and he gave it to me. Why did you do it? Was it good business or just helping a friend?
Both. I wouldn't have done it if I thought it was $150,000 down the drain.
---
But it was a risk.
Risk is fun. You know that. You can't be an entrepreneur and not enjoy risk. I enjoy gambling too.
I think this is the most wonderful livelihood you can have – taking a chance on bright people who are creative.
We're putting more music into the world, not more greenhouse gases. It's just music. How fucking great is that.
---
Independence: what does it mean to you?
Independence means not having a boss or stockholders, and that's what I love.
It's nice. It gives me a lot of freedom and peace of mind.
"The difference between majors and indies is diminishing. The advances majors can pay are lower."
There was a time it felt like more of a community. Our industry's in so much transition right now. On one level, the difference between majors and indies is diminishing. The advances majors can pay are lower, the advances indies can pay are higher.
The playing field is even: every person has every record ever made in their pocket, you can just check it out.
---
I still hope that independents, generally speaking, treat artists fairer and with more respect than majors.
I agree. I think independents are important, otherwise it's giant corporations stockholders and monopoly.
There might be a CEO at these huge corporations that does care about artists, but he will get fired if he doesn't serve his stockholders.
I won't get fired unless I don't serve my artists.