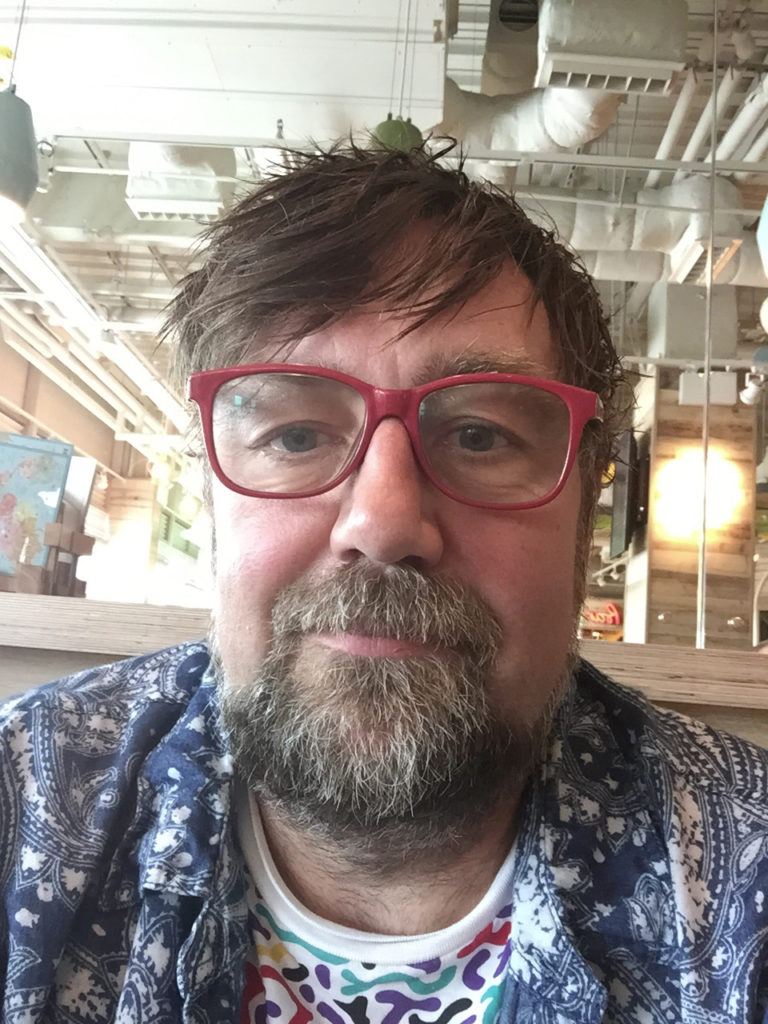 "John Peel was everything to me. He showed up in Cardiff for a short while on Saturday mornings on BBC Wales. I would go and hang around. Just literally stand outside and look for him to leave. Hey, there wasn't much else to do…"
Music didn't just arrive in the life of Mark Bowen.
It burst through the radio in his parents kitchen, grabbed him by the ears and shouted about experiences far beyond that of his upbringing in South Wales.
[Listen To Mark's Playlist right now!]Bowen would go on to develop his A&R antennae at Rough Trade, where Geoff Travis hired him to replace James '1965' Endeacott.
After RT, Bowen joined Alan McGee and Dick Green at Creation where, amongst other acts, he signed The Super Furry Animals.
After Creation disbanded following a hedonistic last few years, Bowen, together with Green, quietly picked up the pieces.
They formed their own indie, Wichita Recordings, 15 years ago.
Wichita has worked with everyone from The Cribs to Conor Oberst, Bloc Party, Simian Mobile Disco and First Aid Kit in that time, earning the respect of music biz peers and discerning fans alike.
The Independent Echo is proud to present Mark's 'Life's Playlist' below.
You can listen the 15 tracks that have meant most to him during his life, and read his comments about five extra special records that had a personal impact.
---
Aztec Camera – Oblivious (1983)
I was 13 or 14 living just outside Cardiff in South Wales when I heard [radio DJ] Kid Jensen play Oblivious. I didn't know anyone in the music business or anything about it.
It's odd, because 95% of my record collection is informed by John Peel, very directly and traceable. But the gateway drug, in the early evening, was Kid Jensen playing this song – it literally changed my life.
"This was the first thing to inform me there was such a thing as an independent label."
It was the first thing to inform me that there was such a thing an independent label, and that there was life outside the charts. Scritti did that for me at the same time.
These were brilliant pop songs which deserved to be on the radio – and they were a lot less strange than some of the stuff that Peel got me into.
---
Jesus & Mary Chain – Upside Down (1985)
There were a couple of records I heard in my parent's kitchen on their transistor radio that I remember really clearly, all from Peel: Upside Down, [Public Enemy's] Rebel Without A Pause and [Husker Du's] Makes No Sense At All. All three stopped me in my tracks.
I was around 15 and listening to Peel whenever I could. It was aired after my bedtime, but I worked out that if I was being good and made cups of tea for mum and dad, I could spend some time in the kitchen.
When I tuned in the radio and heard the Mary Chain for the first time, I must have thought: 'What's that?! That sounds terrible… no way.' But then it hit home so hard. It completely opened my ears.
"The first time I heard the mary chain I must have thought: 'That sounds terrible… no way.' But then it hit home so hard."
Even though all the bands I've mentioned went on to have successful careers, the first time you heard any of those records they all sounded so completely unique.
As life's gone on, that's what I always hope to find in a band or an artist; something I haven't heard before, or at least something that's a different take.
All three of those records set the template: I can still go back right now to that kitchen, Upside Down is on, and my jaw is on the floor.
The most amazing thing for me about all this is that Rough Trade released Scritti and Aztec Camera and introduced me to the idea of an independent label. Geoff [Travis] gave me my first job.
I heard Jesus & Mary Chain on the radio and that made Creation my favourite label… and then Alan and Dick gave me my second job. I've always felt there was a lot of fate involved in these songs.
---
Boo Radleys – Lazarus (1993)
I grew up at a strange time in Cardiff in the Eighties, not just in terms of politics and living in a mining community, but because there was no music.
There was a lot of other great stuff going on, but there were about three shows a year. I had to get out.
So the minute I could, when I turned 18, I went up to Liverpool to do a politics degree. I hate to say it, but having grown up under Thatcher, I felt like I wanted to do something, and that was my answer.
When I moved up there I pretty quickly got a job in a second-hand record shop called Pink Moon. One of our best customers was this guy, Martin Carr, from the Boo Radleys. He was always buying the records I liked, then one day I saw him out at Planet X in Liverpool.
There was a Husker Du video on the TV and we were both freaking out. I thought: "This is my kind of guy!"
"Martin carr is a genius."
Martin is a genius. I watched that band from its absolute beginnings. I started off hanging around them, then going on tour just for the hell of it – selling some T-shirts. By the end, I was officially their drum tech.
It was through Martin that I met Geoff Travis when the Boos signed to Rough Trade; I met Alan and Dick when the Boos signed to Creation; I moved to London when Martin moved to London.
I wouldn't be doing any of this without him.
I went all around the world with the Boo Radleys and learnt so much about the music business.
To this day, Lazarus still shows this huge musical ambition. They were a band that for so long, before Wake Up Boo!, just couldn't crack the Top 40, which was a big deal. We all thought Lazarus would be the one that did it.
Martin's got this incredible way of incorporating all the best stuff he listens to into his own music. Lazarus is towering.
---
Super Furry Animals – Frisbee (1995)
The Super Furries were the first band I signed that had any kind of success. It's still the association I'm proudest of.
They were the best band in the UK for a decade. They picked up the mantle that Martin had laid down of being ambitious in everything you do. They remain such an incredible band. I'd known the Flaming Lips a long time, and they put on these amazing live shows and were super-creative in recordings. There wasn't really a British equivalent, and then the Furries came along and just made all their peers look so normal, so ordinary.
For kids my age who thought The Alarm and Shakin' Stevens would be the full extent of Welsh music on the radio, and then to hear John Peel playing the Super Furries and talking about them blew my mind.
"I owe the super furries a huge debt."
If I hadn't been lucky enough to work with them, who knows if I'd still be doing this now. I owe them a huge debt.
I'm very, very proud to have been involved in the making of those records. I think history will show they were one of the most interesting bands of their generation – if not the best.
We had very similar upbringings. It meant the world to me that we ended up playing to 5,000 people in Cardiff and before I left Wales, the average show I'd been to was attended by about 50 people, with no music scene at all.
---
Bright Eyes – Calendar Hung Itself (1998)
Bright Eyes is very central to the last 15 years of my life. Fevers & Mirrors was the first record we ever released on Wichita, which I still find amazing.
We greatly overpaid for it based on what he'd sold in America! When Creation ended, Dick came to me and said he wanted to do a label but do it on a very different scale.
For five years it was just the two of us with no office, no staff or anything. That was hugely different to what Creation had been towards the end.
"For five years, wichita was two of us with no staff, no office. It was hugely different to creation."
Conor still symbolises what, to me, I hope Wichita has been about: bringing timeless, great records by people who have really grown and grown as their career has gone on.
Watching Conor pretty much do what the hell he wanted for the last 15 years, despite having No.1 records in America and all the craziness he's achieved; when people ask what is Wichita about, it's that – the career artist.
Kicking off with Conor was the best possible way Wichita could have started; it's still something I'm very proud of.

[bs_tabs]
[bs_thead]
[bs_tab class="active" type="tab" href="#bs_tab143506699275811″ title="Deezer"]
[bs_tab class="" type="tab" href="#bs_tab143506700819011″ title="Spotify"]
[bs_tab class="" type="tab" href="#bs_tab143506702951011″ title="Youtube"]
[/bs_thead][bs_tcontents]
[bs_tcontent class="active" id="bs_tab143506699275811″][audio_deezer id="1290332255″][/bs_tcontent]
[bs_tcontent class="" id="bs_tab143506700819011″][audio_spotify username="the_independent_echo" id="5xSW5OlNBPSCXE3auPH3Zi"][/bs_tcontent]
[bs_tcontent class="" id="bs_tab143506702951011″][audio_youtube start_id="z0J_kuTib1w" id="PLskdNs0VDommwMl2QUk7sgrSQWziY0I6t"][/bs_tcontent]
[/bs_tcontents]
[/bs_tabs]