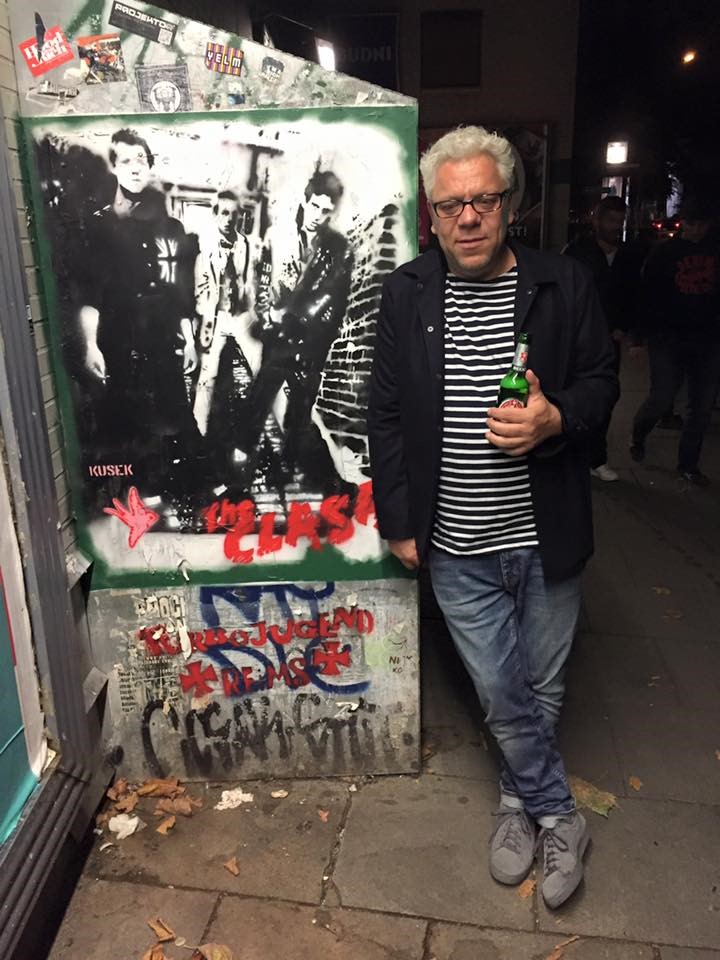 Stefan Struever is a staple figure in Germany's independent music scene, having started his career in the early '90s as a promoter and label manager at Rough Trade.
He went on to find success in A&R, particularly at !K7 Records – where he was instrumental in the expansion of the label into one of the world's most influential dance music brands.
At !K7, Stefan worked on the huge X-Mix and DJ Kicks series, as well as pushing the label outside of its traditional compilation business into artist signings such as Kruder & Dorfmeister (and their solo projects Tosca and Peace Orchestra), Matthew Herbert, Ursula Rucker and Princess Superstar.
Since 2008, Stefan has called [PIAS] home.
Initially joining as A&R Manager for Germany in 2008, he has since been promoted to General Manager of [PIAS] Germany GmbH, having worked with signings including Gisbert, Agnes Obel, Soap & Skin and Milky Chance.
Earlier this year, Stefan's team celebrated a No.1 single in Germany with Catch & Release (Deepend Remix) by US artist Matt Simons.
The Independent Echo asked Stefan to make us up a playlist of the tracks that have most impacted his life from childhood to now – and tell us a bit about them.
Listen and read below…
---
Kraftwerk – Kometenmelodie 2 (1974)
I was blessed growing up with two older brothers, so I got in touch with great music at an early stage.
While my eldest brother listened to all the 70's dinosaurs like Yes or Genesis, my brother Jens was (and is) a different beast – being interested in all kinds of music and being a source of inspiration to this day.
Looking back now, Kraftwerk have definitely left the biggest impression on me, and we spent a lot of time listening to their albums Autobahn, Radioaktivität and Trans Europe Express in our Kinderzimmer!
Rather than starting my playlist with one of the obvious Kraftwerk songs, I thought I'd go with this goody which you can find on the B-side of Autobahn and which I loved as a 6 year old.
---
DAF – Kebabträume (1980)
Getting older, it was absolutely necessary to emancipate myself from my brothers' tastes and in around 1980 there was a lot of great music from Germany which took influences from the Punk and Post-Punk scene in the UK.
My record player was occupied by releases from bands like Fehlfarben, Der Plan, Andreas Dorau, Palais Schaumburg, S.Y.P.H and labels like Ata Tak, ZickZack and No Fun.
I also spent quite a lot of money on cassette fanzines like 'Festival der guten Taten' and rather unlistenable live bootleg tapes.
I could have chosen any song by the bands mentioned above but DAF's 'Kebabträume' is a song I still very much like to play out when I DJ.
---
Laurie Anderson – Oh Superman (1982)
This is a song I totally adored back when it was released and still love today.
I remember hearing this for the first time on John Peel's show which was broadcasted via BFBS in Germany. Having grown up in a small town in the middle of nowhere, his weekly shows were a nearly religious experience for me and my friends. Peel's open mindness still resonates with me up until today.
Laurie Anderson was also the first artist which led me into checking out more experimental NY composers like Steve Reich or Philipp Glass. A timeless piece of music.
---
The Fall – The man whose head expanded (1983)
Another John Peel discovery and a starting point for a lifelong obsession with The Fall.
All hail Mark E. Smith!
---
Jonzun Crew – Space is the place (1983)
The '80's were full of amazing music. Jonzun Crew was the title melody for German Music TV show 'Formel Eins', which mostly had shit bands on but in the absence of any other TV shows was watched weekly.
I could also have chosen Africa Bambaataa's 'Planet Rock' or Man Parish's 'Hip Hop don't stop' but I'd rather go for the crazy Jonzun Crew.
This was also around the time I started listening to early Hip Hop like Grandmaster Flash's 'The Message' and when I started to DJ.
---
Nick Cave – Stranger than Kindness (1986)
By this time I was working in a record shop during the week and dj'ing in a place called Heartbreak Hotel which was a bar/pub and which was attended by music lovers of all ages.
Though the owner of the place doesn't like me anymore today (no wonder as we had the police show up most Fridays because of me constantly going too loud) I remember this as a fantastic time as you could play any sorts of music there.
I could have also chosen John Cale's version of 'Heartbreak Hotel' instead which was always played as the last song, but in hindsight it's been 'Stranger than Kindness' which always reminds me of these times.
---
Galaxie 500 – Don't let our youth go to waste (1988)
I am choosing this as: a) The title of the song speaks for itself and b) Galaxie 500 were one of the bands I saw at Forum Enger, a tiny live club in a really small town which had amazing booking where I also got see amazing performances from Mo Tucker, Half Japanese, The Feelies, Yo la Tengo, and so many more.
I do admit, though, that I did not attend the Nirvana / Tad show for 5 Deutschmark at which only 50 people attended – but I know of at least 500 who pretend they were there.
However, the most remarkable show I have seen there was by Spacemen 3 in 1989 where we had a after-show party with the band in their tiny backstage room. (Even though the band seemed to have been more interested in my girlfriend back then).
I have met Jason Pierce many years later at a Silver Apples show in Hamburg and he did not remember that night quite as well as me. PS: Another reason I chose this song is because the original version is by Jonathan Richman whom I also love.
---
LFO – LFO (1991)
Fast forward into the Nineties. I had already started to buy and love early House and Techno records which arrived in the late '80s as imports from Chicago and Detroit and which we sold in our store.
There were plenty of amazing records arriving every week from the likes of Phuture, Bobby Konders, Mr. Fingers, Todd Terry and so many more.
The roughness a lot of these tunes and the DIY approach by the artists and labels reminded me a lot of the (Post) Punk days, so I started being drawn to a lot of Techno and House (and Electro !).
Nevertheless I've chosen LFO here as this was around the time I started working at Rough Distribution in the Ruhr Area – where i was a tele sales person first and then got into promotion and where I had the pleasure to work and meet artists like LFO, Aphex Twin, Autechre, Derrick May, Juan Atkins and so many more.
I particularly remember that Black Dog Productions were the first artists who requested to do interviews via e-mail only. Back then we found exactly two journalists who had working e-mail – so that clearly limited the promo output. Those were the days…
Oh, I have also chose this because WARP remained one of my fave labels to this day.
---
Hardfloor – Acperience 1 (1993)
So while I was selling and promoting amazing music during the week, the weekends got totally out of control. I did a bit of dj'ing at Bochum club Planet and this Hardfloor track was one of my faves to play.
A regular weekend would start Friday after work and last into Sunday afternoon visiting clubs, Afterhours, back to the club and more Afterhours.
Nevertheless I got to hear and meet many amazing DJ's like DJ Pierre, Armando, Jeff Mills, DJ Hell – but the crown for best gig at Planet has to go to Derrick May. We booked him for the main room but since only very few attended we had to move it to the small room where he played an outstanding set. An unforgettable night!
Also great was the fact that I could use my Rough Trade job as an excuse to arrange meetings in Berlin or Frankfurt, which I mostly arranged for weekends so I could attend nights at Omen in Frankfurt or Planet and E-Werk in Berlin.
Needless to say that first few Love Parades in Berlin are unforgettable too – when it was still on Kurfürstendamm. The regular Berlin visitors were in awe when they saw thousands of people dancing all the way up and down on Kudamm.
---
La Funk Mob – Ravers suck our Sound (Carl Craig Remix) (1994)
Yes, by 1994 Ravers indeed started to suck 'our' sound and the whole House and Techno Scene got super commercial. I lost interest in four to the floor sounds and became more obsessed by 'left of centre' stuff from labels like Mo Wax.
I also choose this because I had to include a Carl Craig track or remix here; I adore him for tracks like Desire, Bug In A Bassbin and so, so many more of his productions. Carl was also the first to do a DJ-Kicks compilation – a series I started to A&R from 1995 onwards.
---
Alex Reece – Jazz master (Kruder & Dorfmeister Remix) (1996)
I do remember very well that I bought this record on a Saturday at Groove City in Hamburg where I have moved early 1996.
I think I listened to the record at least 10 times back home and thought, 'I have to get Kruder & Dorfmeister for a DJ-Kicks release'.
So I had a look at their touring schedule and noticed that they had a gig in Ghent where I went to hear them DJ. After their set I basically fell a little drunk into their backstage room and had a chat with them.
I think they thought I was damn crazy but I kept ringing them and we agreed on another meeting in Berlin, where we did convince them to participate in the DJ-Kicks series. The rest is history with their DJ-Kicks and Session releases becoming worldwide sellers.
On the back of their releases we also managed to get artist like Thievery Corporation, Rockers Hi-Fi, Daddy G (of Massive Attack fame), Playgroup or  Erlend Oye to take part in DJ-Kicks. A winning formula !
---
LCD Soundsystem – Losing my Edge (2002)
The quintessential hipster's tune?
Or to quote James Murphy: "But have you seen my records? This Heat, Pere Ubu, Outsiders, Nation of Ulysses, Mars, The Trojans, The Black Dice, Todd Terry, the Germs, Section 25, Althea and Donna, Sexual harassment, a-ha, Pere Ubu, Dorothy Ashby, PIL, the Fania All-Stars, the Bar-Kays, the Human League, the Normal, Lou Reed, Scott Walker, Monks, Niagra, Joy Division, Lower 48, the Association, Sun Ra, Scientists, Royal Trux, 10cc, Eric B. and Rakim, Index, Basic Channel, Soulsonic Force ("just hit me"!), Juan Atkins, David Axelrod, Electric Prunes, Gil! Scott! Heron!, the Slits, Faust, Mantronix, Pharaoh Sanders and the Fire Engines, the Swans, the Soft Cell, the Sonics, the Sonics, the Sonics, the Sonics!"
Nuff said …
---
Horace Andy – Quiet Place / Quiet Dub (2007)
I had to include this tune here as I love my Reggae / Dub and Ska and nearly every Friday those sounds are banging out of my office; not to all my colleague's delight I have to admit – so sorry for that !
Dub and Ska are particularly genres I very much look into these days and albums by artists like Augustus Pablo, Prince Buster, King Tubby, Keith Hudson, Horace Andy, Lee Perry, Skatalites, The Congos etc  have become very important to me.
---
Hailu Mergia – Tche Belew (1977)
'Outsiders' music is also very important to me. Looking for those figures having released music which is hard to find.
Plenty of names spring to mind from Eden Ahbez to Arthur Russell, Yma Sumac to Moondog, Tim Maia to Francis Bebey.
In these internet days with plenty of blogs, online sites and shops its a real pleasure hunting for the unknown.
The Hailu Mergia song here is from the label Awesome tapes from Africa, who also run a great blog where you can discover plenty of amazing African music.
I remember that Brian Shimkowitz (who runs the label and blog) played an amazing 3hr set at Hamburg festival Dockville a few years back.
There are also so many amazing re-issue labels, all of these outsiders are finally the attention they deserve. The world is full of amazing stories like Sixto Rodriguez.
---
Michael Kiwanuka – Place I belong (2016)
Holy shit – last one already and not a single soul tune in here? Nothing hot and contemporary?
Well what better tune to drop here then that Michael Kiwanuka's 'Place I Belong'.
I love his new album and this song is an amazingly arranged and wonderful tune. It's a good song to have as my last song in my lifetime playlist as I feel it will stay with me for years to come.
Of course I could have also chosen anything by Marvin Gaye, Curtis Mayfield, Shuggie Otis, D'Angelo and so many more soul artists but I also wanted to have something released this year – so everyone who takes the time to read my little stories and listen to the playlist below feels that I am still relevant!
Needless to say that there are many artists and genres missing here but since I only had 15 songs to choose!
---
[bs_tabs]
[bs_thead]
[bs_tab class="active" type="tab" href="#bs_tab143506699275811″ title="Deezer"]
[bs_tab class="" type="tab" href="#bs_tab143506700819011″ title="Spotify"]
[bs_tab class="" type="tab" href="#bs_tab143506702951011″ title="Youtube"]
[/bs_thead][bs_tcontents]
[bs_tcontent class="active" id="bs_tab143506699275811″][audio_deezer id="2288322102″][/bs_tcontent]
[bs_tcontent class="" id="bs_tab143506700819011″][audio_spotify username="the_independent_echo" id="52sMqgHs04VMNyVSlWcNxh"][/bs_tcontent]
[bs_tcontent class="" id="bs_tab143506702951011″][audio_youtube start_id="hlHFlrXZmKQ" id="PLskdNs0VDomkTlpFKaxVxo-keVCv4UpnF"][/bs_tcontent]
[/bs_tcontents]
[/bs_tabs]