Mexico is big news right now: the latest IFPI stats show that the market's recorded music revenues grew 23.6% last year, following a 15.1% increase in 2015.
Yet to get a picture of how important the territory has become of late, you only need to check out Spotify.
More specifically, you only to need check out the profiles of the world's biggest independent artists – and the list of cities where their music is being streamed the most.
Take for example, Adele – for whom Mexico City is No.1 ahead of Sao Paolo in Brazil and Santiago in Chile.
It's also No.1 for Radiohead (ahead of Sao Paolo and Los Angeles), Arctic Monkeys (ahead of London and Sao Paolo), Metallica (ahead of Sao Paolo and Santiago) and New Order (pictured, ahead of Sao Paolo and London).
And it's not just long-established acts that are seeing the trend.
Minneapolis four-piece Hippo Campus now have more than 860,000 monthly listeners on Spotify – a number that has been steadily rising in recent months.
Their top city? Mexico City, followed by Manhattan and Chicago.
"Hippo Campus are hitting 300,000-plus streams a month of the lead single in Mexico… and it's spreading to other songs from the artist."

Tim Dellow, Transgressive
"Mexico has become the global No.1 territory for Hippo Campus," explains Tim Dellow, co-founder of the band's label Transgressive.
"We're hitting 300,000-plus streams a month of the lead single there from playlist pick up, but this also suggests some more engaged listeners too – as it's spreading to other songs from the artist."
These numbers are having a material impact on the way these artists and their teams treat Mexico.
Dellow says that Hippo Campus are now looking at bolstering their popularity in Mexico with some touring activity – something which would have been largely unheard of for an independent artist just a decade ago.
Cesar Rosas is the head of [PIAS]'s operation in Mexico City.
He remembers 2004 well, when The Cure returned with their self-titled album.
"Mexicans can see a big change happening – lots of bands are now visiting Mexico for the very first time."

Cesar Rosas, [PIAS]
Rosas was working for Universal Music, and had to travel to Florida in a bid to convince Robert Smith and his manager that The Cure would be well-received should they tour in Mexico.
He left with an agreement – if the album hit No.1 in the market, the group would commit to a tour.
It did, they did – and The Cure played three sold-out arena shows in the market to 18,000 people a night.
"If Spotify was alive at that moment in Mexico, it would have been a lot easier to show the statistics," says Rosas today.
"Mexicans can see a big change happening because lots of bands are now visiting Mexico for the very first time – they can be certain they have the fans here to justify it.
"Even in the recent past, if I listened to a Metallica record all day long, they'd never know."
Below, Rosas discusses five more essential elements of the modern Mexican music market you need to know about…
---
1) Streaming has exploded in recent years
You hear a lot about the growth in recorded music around the world thanks to streaming these days.
What you don't often hear is the amount of money being generated by streaming platforms trebling in a single year.
Yet that's exactly what happened in Mexico in 2015.
According to the latest IFPI stats, paid subscription and 'freemium' streams (those ad-funded plays linked to a premium service) accounted for $23.9m in wholesale revenue for artists and labels in 2015 – representing a 212% rise on the $7.65m generated by the format in 2014.
In 2016 (where things have been slightly re-categorised) subscription audio streams alone stood at $45.8m, with total streaming revenue (including video) hitting $71.4m – up 61% year-on-year.
Mexico was the world's 15th biggest recorded music territory in 2016, with total revenues growing 23.6% to $133.5m – thanks to the unprecedented jump in streaming.
"The media has been very important in the growth of subscription," comments Rosas. "This is a new era for Mexico – we are getting conscious [about copyright]. This is a new generation where some things that in the past didn't matter – paying for music legally being one – have now started to matter."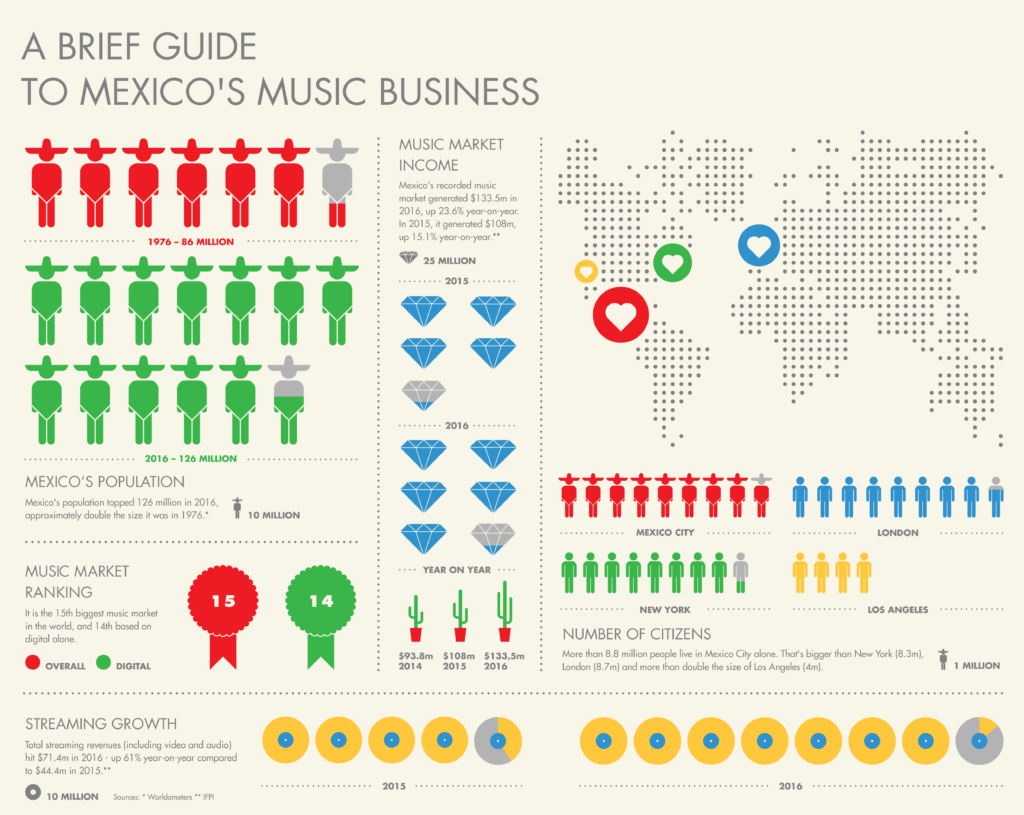 ---
2) Spotify is king – thanks to mobile phones changing the habits of a generation
Mexico is Spotify's third-biggest market worldwide by volume of streams after the US and UK.
According to stats from The Competitive Intelligence Unit (CIU) released in mid-2016, Spotify has a 64.1% share of the streaming music market in the country.
"Spotify is definitely a dominant brand here," says Rosas.
"Most young Mexicans now have smartphones, which has changed everything. Estimates suggest that 70% of young people have a smartphone here now. When you consider the population of Mexico, that's a huge number."
The CIU data suggests that mobile phone penetration in Mexico reached around 110m people last year – or 90.3% of the population.
---
3) Physical retail lives on – especially in terms of vinyl
Physical music formats contributed just 24% of Mexico's total recorded music wholesale value in 2016 – with digital on 66% and performance rights/sync on 10%.
That doesn't mean, however, that Mexico's physical music market should be dismissed out of hand.
The total revenues generated by CDs in Mexico actually grew 11% in 2016 to $7.9m, while 'other physical' – ie. vinyl – grew 7% to $1.6m.
"We are a very romantic people here when it comes to music," says Rosas. "We recognise vinyl as a beautiful format, and we at [PIAS] can certainly see Mexicans are buying vinyl in significant numbers."
He adds: "This year and next year will be key, because right now some young people [working in music] do not see vinyl as a good business; they have to import it from the States or Europe and it ends up being a very expensive process.
"By the end of this year, we will start manufacturing with high quality vinyl in Mexico. That can be a big help for us, and we can pass on better prices to fans."
The biggest physical retailer in Mexico remains MixUp, the country's long-established premier physical music chain.
However, according to Rosas, independent music retailers are increasingly popping up in Mexico City and other cities.
---
4) Neighbouring rights remain a major concern
In 2003, a major change was made to the Federal Copyright Law (FCL) in Mexico which meant a royalty was due to performers and labels for "public communication or transmission of their work".
In reality, many suspect that Mexico still isn't paying its way when it comes to neighbouring rights – which should result in copyright holders getting paid every time a track is played on TV or broadcast radio.
In 2016, annual performance rights money in Mexico fell 5.8% to $4.9m – making up just 4% of the market's total recorded music revenues. In Argentina, that figure was as high as 59%.
Despite being the world's 15th biggest recorded music market, and 14th in terms of digital revenues alone, Mexico is a lowly 40th on the list for performance rights payouts – behind the likes of Peru and Serbia.
"For a long time, musicians didn't get paid all of the rights because of the corruption in Mexico," says Rosas. "In Argentina, it was always the case that when you had a cool song and it got played on the radio, you'd get paid. But Mexico was more complicated.
"Because of the corruption here, the artists didn't get paid those [neighbouring rights]. The situation is supposedly improving, but to be honest with all of this digital revolution, I think it will have to change anyway. The main thing is to make sure the money is getting to the artists – some justice after many years of unfair treatment."
---
5) Mexico's population is growing rapidly – and challenging the world's most established music markets
Mexico's population surpassed 128m people in 2016 – approximately double the size it was 40 years earlier.
Within that, Greater Mexico City region (including outer metropolitan regions) stands at around 21m people, with the city itself being called home by 9m.
To put that into context, that's bigger than London, New York or Los Angeles.
Still, IFPI estimates that per head (capita), Mexico's population is spending just $1.08 a year on recorded music each year.
"I describe Mexico as a surreal place, especially Mexico City," says Rosas. "Our rhythm of life is not normal. When Spotify appears – an option to listen to music the whole day. It's like a new radio we can manipulate in a good way."
He adds: "Independent music is more than a brand to people here. The most interesting music is coming from independent brains. We are becoming a very important force here, both creatively and business-wise. The big labels can't develop ideas as quickly as we can."