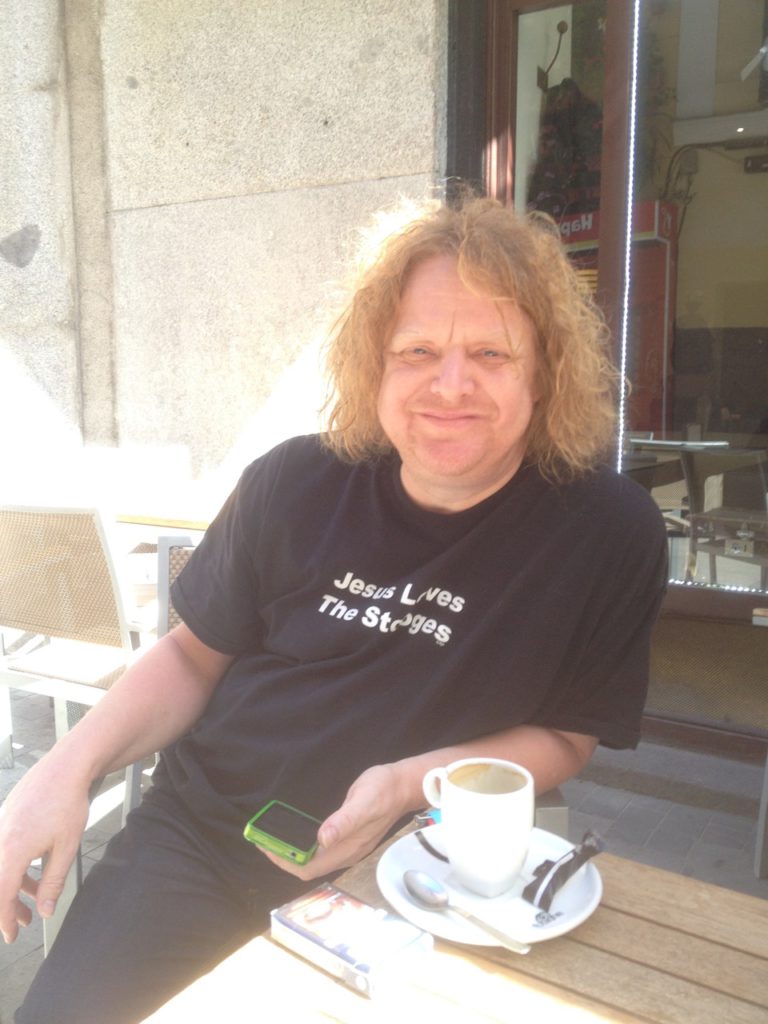 James Endeacott was slap bang in the centre of the last mainstream explosion of independent music – and now he's trying to fire-start another one.
The South Londoner was an essential A&R figure in the development of both The Strokes and The Libertines at Rough Trade, where Geoff Travis and Jeanette Lee taught him the ropes through to the early noughties.
Before that, Endeacott got his own mini-taste of on-stage adulation, joining shoegaze heroes Loop and winning a fan in John Peel.
Following Rough Trade, he set up 1965 Records in tandem with Sony, where he broke The View – whose first LP remains one of the UK's fastest-selling rock/indie debuts in history.
1965 is now back, fully independent, and revitalized. Signings to Endeacott's label include Selfie Boy, Wesley Fuller and Man & the Echo – one of Steve Lamacq's favourite bands from the past few years.
The Independent Echo asked James to put together the 15 songs which changed his life for our 'My Life's Playlist' feature – which you can listen to below.
But before that, he explains why he considers five of these songs extra special…
---
Space Oddity – David Bowie (1969)
The first record you buy with your own money is always going to be special. It was 1975, I was 10 and Bowie was No.1 – all I knew is that there was a Spaceman on TV and the radio and I wanted to know more.
Little did I realise that the purchase of this record from Scene & Heard in Halifax would be the blueprint for the rest of my life.
Bowie has been with me since then and will be with me until I stop. I could go on but you all know the story – me and thousands of others have all walked down the path. Thanks for everything David – without you, I'm not sure where I'd be.
---
Head On – Loop (1987)
By the time I was 21 years old I was living in London looking for the answer. Along came 3 kids from Croydon who channeled the energy of The Stooges and the tripped-out weirdness of the 13th Floor Elevators.
I joined Loop, made them a four-piece and spent two years living the dream – wearing black, getting high and wanting to destroy everything with noise and noise and noise.
This is the first track on the the only album I was on –  of course it was their best one.
---
What Time Is Love? – KLF (1992)
This just brings back memories of late nights, long sleeved t-shirts, freedom and a love of life.
I spent a 'lost' summer going from rave to rave with the KLF in their police car – I have so many stories I could tell you if only i could remember them.
This 12" was the one that set it all of for me – this and Your Love by Frankie Knuckles. Now what ever happened to that pair of British Knights? "You on one?"
---
The Good Old Days – The Libertines (2002)
Working with The Libertines were two or three of the most exciting years of my life – fact.
This song means so much to me. I remember being in Japan with the band before the album was recorded and Pete wouldn't stop singing the song on his acoustic guitar – I became obsessed with it.
Fast forward a few months and the band are in RAK studios recording their debut album. I arrived one night rather late and a little worse for wear – the four members of the band were in vocal booths doing the backing vocals for this song.
Mick Jones, the producer (who was also in The bloody Clash) and Nick Terry the engineer were in the control room sorting stuff out. Suddenly Carl asked who was around as they wanted some more voices… me and Mick put our hands up and wandered into a vocal booth.
After a bit of this and a bit of that we started singing backing vocals.IT WAS ONE OF THOSE PINCH ME MOMENTS. I was in a vocal booth with Mick Jones and we were singing backing vocals on my favourite Libertines song… if it all ends now I will be happy.
A perfect moment – brings a tear to my eye just thinking about it. I was of course so low in the final mix no-one will ever believe the story but fuck 'em…
---
Rye Lane Shuffle – Moses Boyd (2016)
This is the sound of the future. I've been trying to get into Jazz for about 20 years – I used to run a Jazz club for heaven's sake.
I own 100's of records and CDs and know quite a bit about it – but will I ever understand? No – of course I won't… that's the beauty. That's the beauty of all music… we will never really know why: why did Bowie write this, why did the KLF do that, blah, blah, blah…
Moses Boyd is a young kid from South East London who has music flying through his veins.
He's a drummer – in fact he's one of the best drummers I've ever seen and he's still way under 30 years old. The thing is he believes – he believes in the power of music. Just buy this single and lose yourself.
[bs_tabs]
[bs_thead]
[bs_tab class="active" type="tab" href="#bs_tab143506699275811″ title="Deezer"]
[bs_tab class="" type="tab" href="#bs_tab143506700819011″ title="Spotify"]
[bs_tab class="" type="tab" href="#bs_tab143506702951011″ title="Youtube"]
[/bs_thead][bs_tcontents]
[bs_tcontent class="active" id="bs_tab143506699275811″][audio_deezer id="2904857802″][/bs_tcontent]
[bs_tcontent class="" id="bs_tab143506700819011″][audio_spotify username="the_independent_echo" id="45n41VF5sOu1r4o10hZ4el"][/bs_tcontent]
[bs_tcontent class="" id="bs_tab143506702951011″][audio_youtube start_id="cYMCLz5PQVw" id="PLskdNs0VDomnmb1jdS1x9EIyroQfTJf1w"][/bs_tcontent]
[/bs_tcontents]
[/bs_tabs]