Nick Worthington's 37 Adventures is one of the most exciting young independent music companies on the planet right now.
In addition to the hotly-tipped JONES (pictured), the label, management and publishing business is also helping break fresh efforts from Salute, Junk Son, Daniel Woodhouse and many more.
Worthington previously spent years as Head Of A&R at XL Recordings, after he began in the business by founding retailer Pure Groove Records in North London with some ex-school mates (pictured below – Nick far right).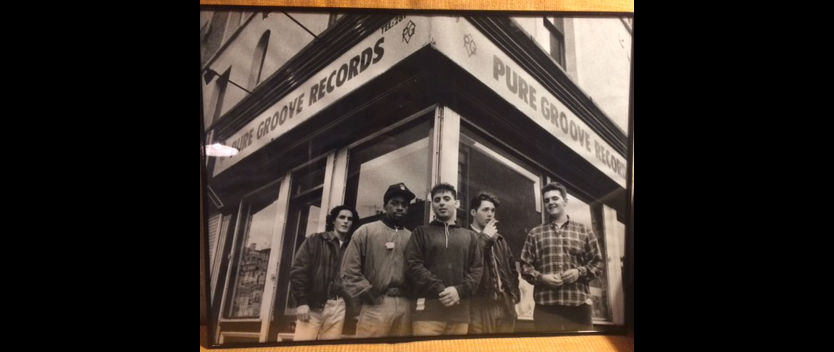 Nick was also the founder of 679 Artists, where he signed and worked with talent such as The Streets, Plan B, Basement Jaxx, DFA 1979, Kano, Mystery Jets and Marina & The Diamonds.
679 eventually became tangled up in Warner Music Group, but with 37 Adventures Nick and his team (including Alex Bean, Sahil Varma and Ben Bishop) are fully independent once again – working in partnership with [PIAS] Cooperative.
Below, Nick showcases the 15 tracks that have changed his life – and tells The Independent Echo about five tracks from the list that have particular meaning for him…
---
Wham! – Everything She Wants (1984)

I wouldn't imagine that Wham! are an act who have made it on to too many other [PIAS] playlists – but as well as being a great song this reminds me of how lucky I was to have grown up in North London in the 1980s.
It was a time and place flooded by exciting music and a real feeling that anything was possible.
Artists like Wham, Sade and Spandau Ballet were coming from clubs and going onto become huge worldwide pop artists and there was a real culture of musical discovery crossing all genres.
---
LL Cool J – Rock The Bells (1985)

I was a fan of rap music from hearing songs by people like Doug E Fresh and Grandmaster Flash – but Def Jam was definitely the breakthrough rap label for me.
Everything they released for the first three or four years was incredible.
I remember when I was 16 or 17 going to a club night called Delirium at the old Astoria Theatre and Run DMC, Beastie Boys and LL Cool J all turning up and performing unannounced.
Unbelievable energy and probably still the most memorable show I've been to.
---
Dem 2 – Destiny (1997)

When I was 19 I opened a record shop in Archway, North London called Pure Groove Records with a couple of friends from school.
Miraculously we managed to stay open for the next 20 years and it was a constant source of exciting new music, whether imports from US and Europe or white labels from bedroom producers in the UK.
Pirate radio was always really influential on the records people brought in the shop and around the mid 90's we noticed a big demand for certain US garage records, which we put together on a couple of compilation albums called Locked On.
This scene then developed with UK producers making their own records and we set up Locked On as a label to release them.
While not the biggest release on the label, Dem 2 'Destiny' is a classic and for me sums that scene up.
---
Basement Jaxx – Red Alert (1999)

Great song and really takes me back to my time working at XL.
I knew Richard Russell from doing clubs and parties together when we were growing up so when a job came up he brought me in and I stayed there for 10 years.
Lots of fun and a brilliant environment to work in with some super talented artists.
---
The Streets – Has It Come To This? (2002)

This was the first release on 679 and I'm really grateful I got to launch the label with such a unique record.
Wasn't totally straight forward at first as not everyone got the record but Mike Skinner had a totally clear vision for what he wanted to do and he ended up as one of the biggest and most influential artists in the country.
It really paved the way for us to go on and develop other artists on the label.
---
[bs_tabs]
[bs_thead]
[bs_tab class="active" type="tab" href="#bs_tab143506699275811″ title="Deezer"]
[bs_tab class="" type="tab" href="#bs_tab143506700819011″ title="Spotify"]
[bs_tab class="" type="tab" href="#bs_tab143506702951011″ title="Youtube"]
[/bs_thead][bs_tcontents]
[bs_tcontent class="active" id="bs_tab143506699275811″][audio_deezer id="2382079662″][/bs_tcontent]
[bs_tcontent class="" id="bs_tab143506700819011″][audio_spotify username="nick679″ id="6w6XwiR6kF9cVAmBKFGTgg"][/bs_tcontent]
[bs_tcontent class="" id="bs_tab143506702951011″][audio_youtube start_id="Yf_Lwe6p-Cg" id="PLskdNs0VDomlJHJjqt_fYuYi9aQisB98_"][/bs_tcontent]
[/bs_tcontents]
[/bs_tabs]