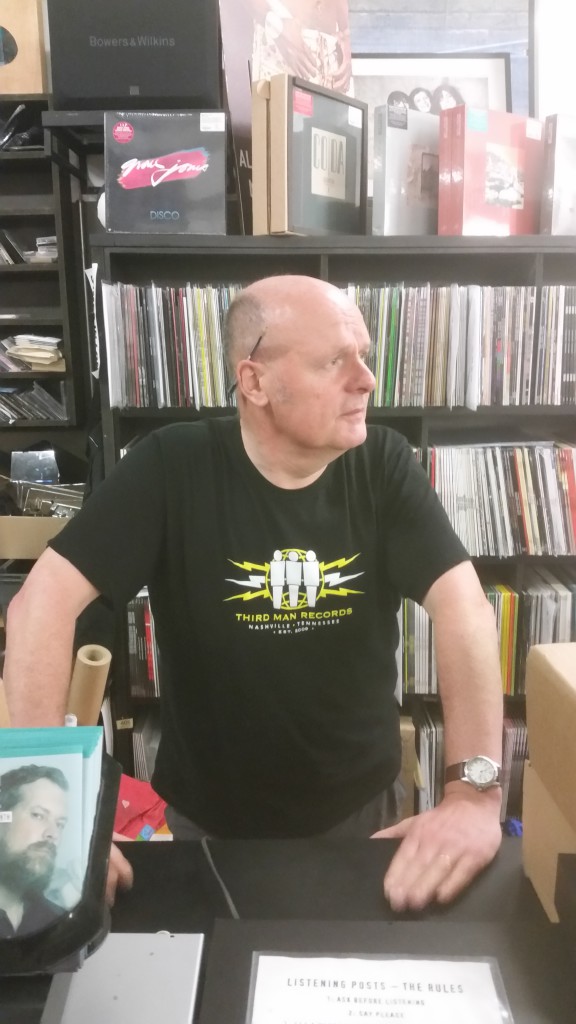 Nigel House can't remember exactly when he began manning the desk at West London's historic Rough Trade retail store. And who can blame him?
"It must have been 1981, maybe 1982," he says. "Whenever it was, in some ways it seems a long time ago, in others it feels like yesterday!
"I do remember opening on Talbot Road in time for carnival in August 1983, only to be burgled that very same evening. We had to use a boombox as our soundsystem for the next few weeks!"
Such historical details are bound to lose their sharpness when you've dedicated as much stamina as House to the art of improving Joe Public's record collection.
House's fate was sealed when he, alongside Pete Donne and Jude Crighton, bought the Rough Trade shop from Geoff Travis in the early Eighties.
They've been maintaining its stellar reputation for being one of the most pleasant, educative music shopping experiences in the world ever since.
"I'm sure it's sad to some people, but I don't care: I love working in a record shop."
The longevity of Rough Trade West has run in parallel to House's enthusiasm: he says he's enjoyed pretty much every minute of his professional existence since he started.
"I just love selling records and working in a record shop," he tells The Independent Echo.
"I'm sure it's quite sad to some people, but I don't care: I still look forward to every day, seeing what it brings.
"Exciting new records are always coming in, of people discovering old bands… everything, about it is great, really.
"It was so hard to choose just 15 tracks – how can there be no Pistols? No New York Dolls, Clash, Slits? No Joy Division or Subway Sect? And John Prine, Tom Russell, Van Morrison? And Ryan Adams too…"
Beyond his life as a record peddler, House, steeped in the traditions of the judicious independent store-owner, is a self-confessed music fanboy.
He knows what he likes – and he's here to tell us about it.
Below, you can listen to the 15 tracks that House has picked as the soundtrack of his life.
Here's what he had to say about five of the extra-special tunes from his collection…
---
Hawkwind – You Shouldn't Do That (1971)
The first gig I ever went to was 1972 Hawkwind and The Pink Fairies at Glastonbury Town Hall.
I loved them anyway, but part of it must have been Stacia dancing topless on stage. When you're 15 that sort of thing is pretty important. There wasn't the internet in those days!
I still like Hawkwind now. I don't listen to them that much, I confess, but I love that contrarian streak they have.
I could have picked any number of tracks really but You Shouldn't Do That is a particular favourite. Silver Machine's obviously a great track too.
---
Birthday Party – Nick The Stripper (1981)
I have loved Nick Cave right from the early days – I remember posting off to Missing Link in Australia for the Boys Next Door, and the early Birthday Party releases before 4AD released them.
This track takes me back to my youth. It's that combination of songs – I love a memorable song – and a show. He really is a proper showman.
I love all of what he's done – whether Birthday Party, Bad Seeds or solo – because he never fails to excite people. That's what music's about, isn't it?
Whether it's The Cramps, The Ramones, Green Day, Iggy or Nick Cave, you go to watch them play and then you leave having been properly entertained.
---
Husker Du – Something I Learned Today (1984)
We used to bring in records from Rough Trade America. Pete [Donne], Jude [Crighton] and I had bought the shop from Geoff [Travis] – we were running it separately from the label.
We used to import boxloads of records from Rough Trade Inc – Black Flag, Circle Jerks, the Thrasher Skate Rock cassettes, as well as the magazine of course; lots of skate rock, hardcore punk.
Somehow the word would get out that we had a shipment in and the shop would fill up with eager customers desperate for the hottest imports. I still regret not bagging myself a copy of the Yes L.A. pic disc!
I remember Husker Du being the best out of all of them. They were like Nirvana in that respect; The Beatles meets Black Sabbath; where songs meets heaviness.
The only time – literally the only time – we've ever shut the shop early was when Husker Du played at the Music Machine in Camden. It was May 14th 1985 and they were filming it for a video.
We all wanted to see the show – it was hugely important to us. They were fantastic of course and you can still get the DVD of that show now. They are still one of my favourite bands of all time.
---
Knitters – Silver Wings (1985)
The Knitters is Exene Cervenka, DJ Bonebreak and John Doe from [LA punk band] X together with Dave Alvin from the Blasters.
They were the first band that really turned me on to country music – quickly followed by Lucinda Williams's self-titled album, which Rough Trade released. I'm aware this is another choice from the mid-eighties! Oh well, it's still a great record.
This particular track was written by Merle Haggard and Whiskeytown / Ryan Adams have covered it too, as well as The Knitters. I love it. They both do it brilliantly.
---
Delines – The Oil Rigs At Night (2014)
I wanted to have something current on here as well!
This record [the studio album, Colfax] was my favourite from last year and I can listen to this particular track all day long. It's late night country soul at its best. Amy Boone is the singer on it and she is simply fantastic at interpreting Willie Vlautin's lyrics.
His Richmond Fontaine albums are all great but the whole album is something else. This is a prime example of something coming right out of the left field and knocking me out!
---
[bs_tabs]
[bs_thead]
[bs_tab class="active" type="tab" href="#bs_tab143506699275811″ title="Deezer"]
[bs_tab class="" type="tab" href="#bs_tab143506700819011″ title="Spotify"]
[bs_tab class="" type="tab" href="#bs_tab143506702951011″ title="Youtube"]
[/bs_thead][bs_tcontents]
[bs_tcontent class="active" id="bs_tab143506699275811″][audio_deezer id="1421266055″][/bs_tcontent]
[bs_tcontent class="" id="bs_tab143506700819011″][audio_spotify username="the_independent_echo" id="53yvnfxxfMYo35IpmTZZo1″][/bs_tcontent]
[bs_tcontent class="" id="bs_tab143506702951011″][audio_youtube start_id="wxiMrvDbq3s" id="PLskdNs0VDomnijNNCDHumVld9lV3xTOFo"][/bs_tcontent]
[/bs_tcontents]
[/bs_tabs]