[PIAS] were celebrating a few weeks back as the company's in-house label Play It Again Sam picked up the 'Independent Label of the Year' award at the prestigious Music Week Awards in London.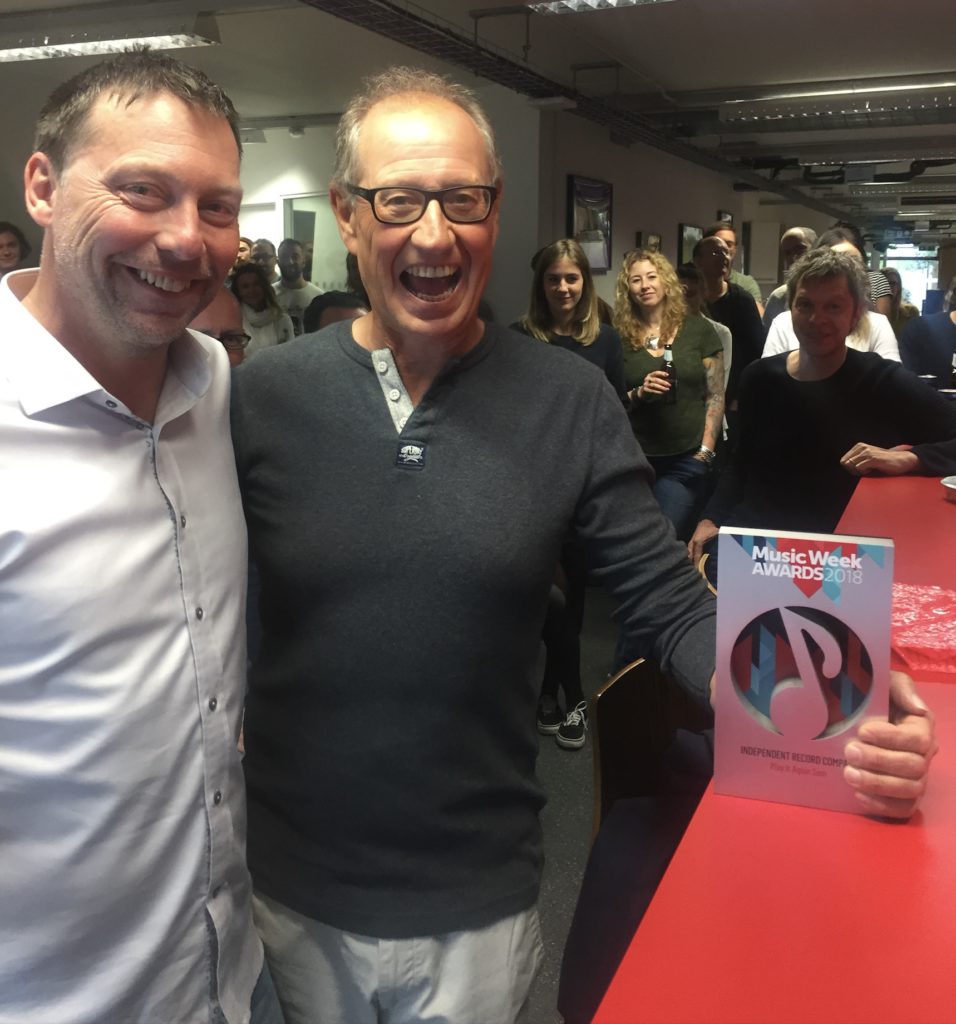 However, one person who wasn't there to share in the plaudits was long-standing Play It Again Sam Managing Director Peter Thompson, who retired from the music industry in 2017.
Widely recognized as an important champion of the independent music community throughout his almost four decades in the business, Peter (pictured with Kenny Gates, inset) had led the Play It Again Sam team since 2010 and was instrumental in many of the label's signings and successes.
We spoke to Peter about his career, his views on the independent music scene and how he felt about Play It Again Sam being recognized by the wider industry.
---
Where did you grow up and go to school?
I grew up in York and was a product of the then Grammar School system.
I went to Nunthorpe school where, incidentally, played in the same football team as the future England Manager, Steve McLaren.  We both went to Hull City for trials but whilst he was chosen I was overlooked and therefore had to pursue a different career.
---
What was your first job in the music industry?
In 1980 I started work in Red Rhino record shop in York who, fortunately, were part of the newly formed independent distribution network The Cartel. This meant my time behind the counter was limited and my main role was selling in lots of new Independently released records to like-minded record stores in much of northern England.
Our "region" spread from Nottingham to Newcastle and in addition to selling in over the phone we had a van and we all took turns visiting the stores in different cities. With all the Cartel members spread across the country it was a key period in the development of local scenes and it was our job (and the other cartel members) to ensure artists and labels based in Leeds, Bristol, Newcastle, Liverpool, Sheffield, Norwich, Glasgow, Birmingham among others and had access to a nationwide distribution network.
---
When did you start at [PIAS]? Although presumably it wasn't called [PIAS] then?
As Red Rhino grew, as well as starting our own label, we also started to offer distribution to some non-UK labels.
[PIAS], or Play It Again Sam as it was at the time, was one of the first. Tony K (who owned Red Rhino) and the [PIAS] owners Kenny and Michel developed such a good relationship that a joint venture label called RRE was formed.
Unfortunately, in 1988 Red Rhino got into financial difficulties but, thankfully, [PIAS] ended up buying the assets and created a new distribution company called APT with Tony at the helm. After a couple of years Tony moved on and I ended up running APT.
In 1993 APT merged with Revolver in Bristol to form Vital Distribution and in (I think) around 2007 the name was changed to [PIAS] and that's where we are today.
---
What were the first acts you worked with at the company?
When at Red Rhino we were helping fund and support a lot of local acts (I guess these may have been the original 'services' deal) and helped out in the early careers of acts like Soft Cell, Sisters of Mercy, Mekons, Prefab Sprout Toy Dolls and many more.
A lot of these deals were driven by Tony but the first deal that I felt was mine was when I signed The Wedding Present and released the classic 'George Best' album.
Whilst at [PIAS] and prior to me working at the label, myself and Ian Dutt developed a marketing division of the distribution arm and called it Integral (this definitely was the forerunner to services deals and has subsequently been copied by almost everyone).
Our first three deals were Jose Gonzalez, Pigeon Detectives and The Gossip and we must have sold close to a million copies across all three albums.
However, all three of these had a label behind them and we were just providing finance and additional services.
The first act that we approached directly for a services deal was probably Enter Shikari and this was quickly followed by Dizzee Rascal.
I'll take the credit for Enter Shikari and Ian Dutt brought in the Dizzee deal!
---
What was the first act you personally signed?
In 2010 I started to get more involved with the label and when Mark Jones left the company I gave up my role as MD of [PIAS] in the UK and took up the role as managing director of the company's in-house label, Play It Again Sam.
Timings become a little blurry but I remember working alongside [PIAS] Group Managing Director Edwin Schroter to sign this amazing new Australian act called The Middle East, who were fantastic but very short lived, but my next signing was Ghostpoet who now feels considerably more substantial and long term.
---
What was the signing criteria you applied when bringing artists to the label?
Did we like it, did we understand it and, could we as a team, contribute to its success. Plus, I also liked acts that had potential outside of the UK.
---
What was the biggest 'hit' you had with the label?
I'm not sure we had any 'hits' as such at least not in the UK.
Artists such as Editors and Agnes Obel had success right across Europe and Balthazar and Oscar & the Wolf are huge in Belgium and growing in other countries.
We've had successful albums in the UK with Enter Shikari, Roisin Murphy, Pixies, Soulwax, Keaton Henson and Lisa Hannigan to name a few but I don't think I can genuinely describe them as hits.
When I took over the label it was already becoming increasingly hard for independents to have hits or at least in the way we had become used to in the 90s and early 2000s.
I wanted a label that could support a wide range of talented people and if we had hits along the way so be it but first and foremost it was important that our artists had careers and could release lots of music and tour successfully.
Given that we didn't have any hits I like to think that winning the Music Week 'Independent Label of The Year' award is an acknowledgement that we built a strong roster of artists across many years and people are now starting to see the breadth and depth of the label.
---
Are there any artists you really wished you'd signed to Play It Again Sam?
There's obviously loads but in my later days there were a couple of acts that I felt could be important in the next phase of the labels development. I tried very hard to sign both but unfortunately failed. The acts were Cigarettes After Sex and Shame.
Maybe if we'd already won the MW award I'd have been more successful!
---
What makes Play it Again Sam special?
It's hard for me to say now I'm not there anymore but at the time I had a great team of people who fully believed in what we were trying to achieve.
In the six years I ran the label we only had a staff turnover of two people. I like to think that goes to show how committed the team were to the label and hopefully the artists and managers could see this.
---
Are you optimistic about the future for independent labels?
I think the current established labels should be in good shape but I worry that if the streaming income becomes too dominant there may be some issues further down the line.
I think it's becoming virtually impossible for new labels to grow organically so I worry that once a label has success independently it's gonna receive a lot of interest from the majors and will more often than not make the leap – hello Stormzy!
This could make it difficult for genuine independents to have the success they need and the independent sector may end up being marginalised again.
However, there are strong companies in the independent sector, [PIAS] being one of them of course, and with their ingenuity and the support of the increasingly important organisations such as AIM and Merlin maybe I'm being overly concerned.
---
Do you need to have any special characteristics or personality traits to run an independent label ?
I don't think so other than don't be in it for the money. I think all the people that run independent labels are fundamentally different, but what all the successful ones have is a great team behind them.
---
How do you feel about Play It Again Sam winning 'independent Label of The Year' at the 2018 Music Week Awards ?
I wish I'd been there!
I think it's a great opportunity for the label to kick on. One of the biggest issues I had when signing a new act was having to explain what the label was and who it worked with.
We clearly had very little profile (as a label) and I had to spend a lot of time clarifying the difference between the broader and very successful [PIAS] operation and the label.
I doubt that Laurence Bell, Geoff Travis or Richard Russell had to justify their labels when signing acts and I'd like to hope that now, with this label award and a number of years of success, neither will Play It Again Sam.
---
How is retirement?
Bliss!