Pie & Vinyl in Southsea, Portsmouth isn't your average record store.
To be more precise, it's a really, really good record store – with added gravy.
As the name suggests, Pie & Vinyl considers itself a 'record cafe', serving up hearty grub which occasionally pays tribute to the outlet's own favourite music pedlars (there's even a 'Sub Pop Pie', named after the 'best record label in the world').
In addition to these pastry tummy-fillers, Pie & Vinyl has earned a sterling reputation for its musical wares since being founded in 2011.
Specialising in new music and new artists, the tastefully designed eating (and listening) spot has a policy of stocking albums released within the last two years.
And considering it doles out meat and mash by the plateful in the same space, it's got an impressively wide selection.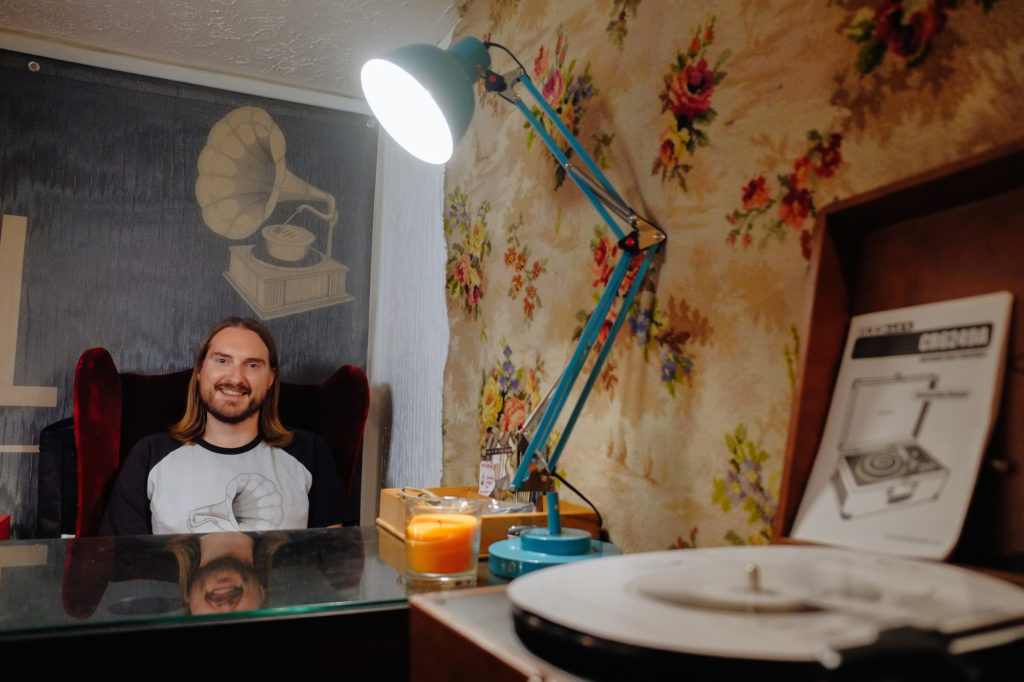 In fact, Pie & Vinyl has become a great friend of the independents, promoting releases from bands sometimes starved of the limelight to its discerning clientèle, and even hosting acts as part of regular in-stores.
The Independent Echo caught up with Pie & Vinyl founder Steven Courtnell (pictured inset) to ask why the combination works so well, how he feels about Spotify – and whether we can expect to see some expansion in the coming years…
So the first question is an obvious one: Why Pie & Vinyl?
It's basically a dream; a place in my head where would have loved to have visited before I owned it.
The idea was hatched in 2011 when I'd started to buy vinyl records, simply because they were being made more available again. I'd always been a music obsessive and I could see some potential.
Now, as I'm sat here in 2016, the idea of opening a record shop seems quite viable, but back in 2011, it was hard to explain to people – physical formats of music just seemed on the way out.
I knew that I wanted to create an experience for people to enjoy; by coupling food and music in one environment, we could kind of stimulate all the senses. The values of the food and the vinyl are quite similar, and for us it all comes down to being high-quality.
I took a lot of inspiration from walking into record shops in Portsmouth when I was younger, back when you felt like you had to pass a music test before you were allowed to flick through the records.
There was a definite, 'What's this young kid doing in here trying to do buying a Jefferson Airplane album?' feel to those shops.
"Pie & Vinyl is a dream; a place in my head I'd have love to have visited before I owned it."
I wanted to make us the opposite – really approachable with some friendly customer service too.
There was also a business reality to the pie idea: I knew that in 2011, I probably needed something to prop up the music retailing side of the [store]. A lot of my friends and family thought I was mad.
The journey so far has been great. We now also run a record label and a promotions arm as well as a club which sends out records to subscribers on a quarterly basis; nice little packs which comes with special cassette tapes or 7-inches of a record. That's building nicely.
Are you looking to expand?
Absolutely. That's the dream. I've been working quite hard on it, but there's no money man behind us, so our own piggy bank is key to everything.
I hope towards the end of the year we can open [another store] somewhere else. We go out and trade in lots of different festivals, and people are still amazed that they can come and buy a record and a pie at the same time!
In-stores have become a really big thing for us as well as the labels. We've had the likes of The Mystery Jets, Daughter and Turin Brakes, and Viv Albertine came in for a book reading – we try and do a couple of in-stores a month.
"I hope towards the end of the year we can open another store."
In April, we have Ben Watt, then The Duke Spirit and The Moulettes coming in May. Sandwiched in between that is Record Store Day, which is a huge event for us.
On one end of Castle Road where we're situated, Arthur Conan Doyle wrote Sherlock Holmes and Peter Sellers was born at the other, so there's some nice bit of history to it.
We've got the road closed on Record Store Day and great bands are playing for us, like Band Of Skulls and Smoke Fairies, as well as Empty Fish, who are a cult Portsmouth band who John Peel loved in the early 1980s, but were banned from everywhere because football hooligans followed them around and ruined shows.
They're making their first appearance for quite a few years and then we've got some acts on our own record label playing too.
How important is Record Store Day for you and how do you deal with so many releases?
It's become a bit cool to not like Record Store Day, partly because is it quite controversial with majors flooding the market.
However, as a record retailer, you've got to support it – it's absolutely fantastic to have all the focus on you for one day a year.
There are frustrations; we say a record store is for life, not just for one day. We try and get customers in, but we like to give them an experience to remember.
"We try to give customers an experience to remember."
That way, even if they haven't bought a record for several years, they come back the following week and slowly get back into music.
We see people [on Record Store Day] who queue up, buy a record, get home, put it on their shelf and never play it. That's frustrating because as a record shop that doesn't help you. We hope we get some repeat custom this year.
What do you make of streaming and Spotify?
It's got a place. And even if you don't like it, there's no point wishing anything away.
In the 1980s or 1990s, you'd read a paragraph on an album in a music magazine, then if you liked the sound of it, you'd go and buy it. But it's a big commitment for people to take that gamble.
I used to love a gamble buy, seeing the cover and trying to work out if you'd like the band. But now people can try before they buy online, and that's no bad thing.
In terms of how much artists get paid with Spotify, I guess that's a whole different conversation. But in terms of retailing, I generally see it as a positive thing.
What's the future for Pie & Vinyl – where will you be in five or ten years' time?
I'll be very happy if we're still around in five or ten years – not a week is taken for granted.
I just hope it carries on. It is possible that vinyl is a fashionable format, but we feel that by providing an experience, people will always want to come here.
Vinyl has a side-A and side-B; it forces you to sit down and listen to it as the artist intended. That's in the favour of vinyl – it's back to that quality thing.
I've noticed that for every Pound Shop that opens out there, there seems to be a new artisan bread bakery or something else that prides itself on high quality.
There doesn't seem to be much of a middle ground anymore; that applies to food, or drink with the premium craft beers you're seeing now, and it applies to [retail] too.
In years to come, when we're all talking to each other through holograms and not leaving the house, we'll still be here, welcoming people through the doors.