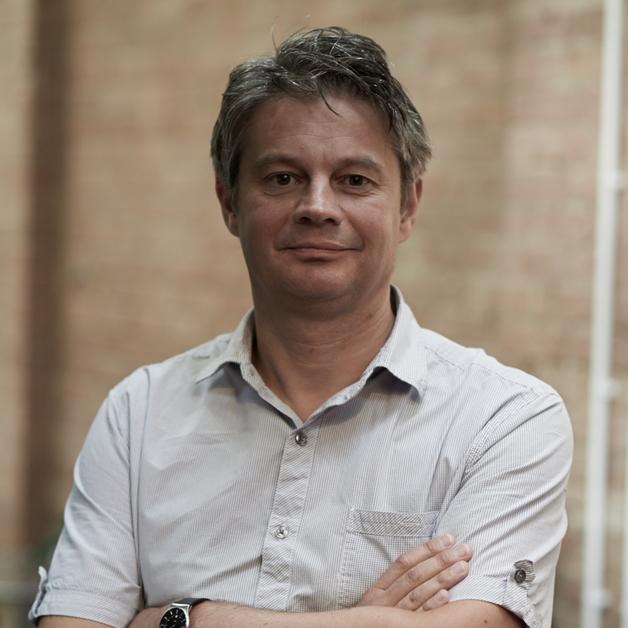 The following blog comes from Richard Sefton (pictured), director of UK sales & distribution at [PIAS].
In 1991 John Major was Prime minister.
The Premier League had not been founded. There were no mobile phones. Digital Downloads were futuristic nonsense, and streaming, well, that was plain laughable.
The biggest selling album of that year was 'Stars' by Simply Red. Bryan Adams broke all records by being the number one single from 13th July – 26th October!
It was also in this year that a team of six sales reps were travelling far and wide across the UK selling records (and cassettes) and the occasional CD to record stores.
Our Price, HMV, Virgin, Sam Goody, Andy's, Tower, and countless independent stores were among their customers. These reps were representing an independent distributor based in York called APT.
"Being a sales rep seemed like a dream job."
I first applied for a position as a Midlands sales rep with APT in the Autumn of 1990. It seemed like a dream job, driving around selling (or giving away if you worked for the majors) music. I traveled to London for an interview and thought I'd done pretty well.
I was disappointed to find out the job had gone to someone else – more on that later. Nevertheless I was now convinced that sales rep was the job for me, and 5 months later another opportunity came up at APT. This time for the East Anglia area.
Once again I traveled to London and this time I was successful, and began the job at the end of April, just days before my 25th birthday.
I distinctly remember getting the keys to the car, and a list of stores on my area. It was up to me to make some sense of them and make sure that I called (or phoned) all of them each month. The first day I drove from home in Northampton all the way to Ipswich.
Spin Dizzy was the first shop I entered, and they bought everything (in multiple copies). Easy.
From there it was a short walk to Our Price in Ipswich on the busy high street. There I came down to earth with a bang. It was a soul-destroying experience as they said no to everything I had to offer.
There you had it in a nutshell: from the sublime to the ridiculous in the space of an hour.
"That's being a sales rep: from the sublime to the ridiculous in the space of an hour."
In those days APT were probably joint third (with Revolver) of three important independents.
RTM and Pinnacle were definitely ahead in terms of recognition from shops. And then there were the majors too, and lots of them.
Getting caught behind one or two other reps in a shop could mean waiting an hour, so it was always wise to understand the best times to call on your stores, and how you could avoid other reps.
Pinnacle reps would be selling up to 100 titles at a time. Utterly ridiculous when you think of it now. We would have on average 15 albums and 15 singles. Certain stores demanded appointments to be made.
Usually these were HMV stores, some of which in those days were managed by humourless individuals with a superiority complex.
They would delight in keeping you waiting or even turning you away if the whim took them.
However there were also those stores who were always friendly, always attentive, always supportive, and it was these who made the job an absolute joy.
As the years went by APT developed as a company, first merging with another independent distributor called Revolver, and a few years later in the late 1990's joining forces with RTM. The six reps became eight, then 11, and at the time of the alliance with RTM the heady number of 24.
By this time Vital (as we were now called) was a major force within the independent community.
All the shops wanted to see the reps. The Vital team were favourites, as we had the best music, the most credible labels and the nicest people.
By this time I had moved on to work in the office as National Account Manager. HMV, Our Price and Virgin no longer allowed reps to sell to stores individually.
Everything was bought centrally, and it was the job of a National Account Manager to look after this aspect of business. So, with fewer stores to call on the amount of reps needed was reduced, and so began the gradual refinement of how we undertook sales. Things were changing.
"all the shops wanted to see vital's reps. We had the best music, the most credible labels and the nicest people."
By the turn of the millennium we were punching way above our weight. We had Number 1 singles with Mr Oizo and Cornershop, and huge selling albums by Moby, Tom Jones, Basement Jaxx, White Stripes and many others.
It was not unusual for us to have several albums selling 100K or more in a year.
These were vibrant times, and we were the most credible company in the UK. The sales reps were the face of the company, working hard to give the best possible service to the independent stores, as that was now the shop base they were calling on.
Recognition to the sales team finally came when we won the inaugural 'Sales Team of the Year' at the Music Week Awards. Since then we have gone on to win this award four more times.
Tougher times were ahead though, and through the noughties independent shops began closing. Rents were untenable, competition from HMV, Virgin, Fopp as well as supermarkets were making trading terribly difficult for many. Added to that was the oncoming digital revolution, which would ultimately destroy the physical singles market which was such a mainstay for many independent high street stores.
With the demise of singles came another question mark over the need for reps calling on stores.
The major labels all but did away with reps, as no longer was there an opportunity for them to hype the chart by giving away copies to stores. The inexorable rise of Amazon in the market was also a major factor in high street independents closing. How could they compete with the prices, and the appetite of the general public to shop online.
For the independents, particularly for [PIAS] we fought to keep a rep presence on the road. Our heartland and loyalty lay with independent stores, and we wanted to serve those as best we could. This is still the case in 2016. During the past 10 years we have seen the disappearance of Music Zone, Fopp (only to be saved by HMV), Virgin, Zavvi, EUk, Woolworths, HMV itself, and countless independents. A few survived through perseverance, hard work, knowledge, bright ideas and downright stubbornness. HMV went into and came out of administration, and has grown from strength to strength.
"The majors all but did away with reps after the singles chart went digital – there was no more opportunity for them to hype the charts by giving away records to stores…"
There were also signs of a recovery in the independent sector. Record Store Day had played a part in building awareness of the plight of the independents. [PIAS] were early supporters of RSD. It grew year on year from inception in 2008, and slowly new stores began to open.
Stores selling vinyl and pies, others selling vinyl and coffee, even vinyl and ice cream.
The resurgence of vinyl as a format has been the catalyst for many new stores opening, and it was [PIAS] and our distributed labels who embraced the format well before any of the majors cottoned on. New ideas, innovative plans, and gradually we saw a whole new world of independent stores evolving.
RSD 2015 had 250 independent stores signed up in the UK. That also meant 250 stores which needing looking after all year round, which brings me to the main point.
Things are very different in 2016, compared to two years ago, never mind twenty five years ago.
The market has evolved and changed almost beyond recognition. [PIAS] has kept up with these changes, and has faced numerous challenges over the years.
Throughout these times there have been three constants I'd like to draw your attention to. Three people who have continued to undertake their jobs thoroughly and professionally despite the challenges.
These are people you don't hear too much about because you won't see much of them, aside from the monthly sales meetings.
They work remotely, completely self motivated and dedicated to doing the best they can for [PIAS] and our label partners. And I should add the independent shops that they serve.
Jason Barton and Nick Allen are our sales reps and they report to Gary Moakes, our sales manager.
Let me remind you that we once had 24 reps covering the whole country. We now have two guys and Gary who manage to look after the myriad of different accounts and over the years have collaborated and created new systems which have enabled the necessary streamlining of the sales team.
This is still a commitment to sales which many of our competitors cannot match as they have dispensed with reps altogether.
"Jason Barton and Nick Allen, our sales reps, report to gary moakes. Between them they have worked at [PIAS] for 68 years!"
Each time we have had to make difficult changes the team have risen to the challenge uncomplainingly and made it work. Between them they have worked at [PIAS] for 68 years! You rarely see loyalty such as this at the majors.
There is also a strong support network for the reps which should also be heralded – Jason Ferguson managing our relationship with distribution, and Duncan Brown's sales support team play a huge part in making everything work.
I have heard many times from stores how much they appreciate the work of Gary, Nick and Jason. They have built strong relationships with the stores and intuitively know exactly what it is required. This is just one of many e-mails I saw from stores in the lead up to Christmas.
---
Big up for everything you do for us all year round – I did say to Nick how sorry I was for you that the year is ending like this and wanted to reiterate that however horrific this December has been, the lengths you go to the rest of the year is NOT forgotten.  
No other distro provides the breadth of promos, extent of (relevant) promo material and preorder info.  Not many others key my orders as late as Nick does (sorry Nick – I try!), and not many have your  willingness to try things.
You really do make this indie shop actually feel like there's any point being an indie.
---
The point that this store makes regarding the difficult ending to the year should not go uncommented.
For the second time in three years we were badly let down by our physical distributor where the service to the stores fell well below the standards required. As the main point of contact for shops it was the reps and Gary who took the brunt of the complaints.
Yet again they handled it all with the professionalism that we have come to expect, and many shops wanted to make clear that they were doing a very difficult job very well.
So this is my dedication to the reps. They undertake a difficult job very well, and fly the flag for [PIAS] on a daily basis.
In the past four years we have opened well over one hundred new accounts which include sixty in the last year alone. The independent store base is expanding at a rapid rate which is an extremely positive trend for PIAS so what they do is as important as ever and whilst other companies have done away with reps we should cherish our guys and continue to support them.
It's amazing to think that 25 years on and through so many changes along the way the role of the sales rep is still crucial to our business.
---
P.S I almost forgot. Remember the person who pipped me to the job as APT's sales rep in the Midlands area almost exactly 25 years ago? It was none other than Gary Moakes. Congratulations on your quarter century! And thank you for supporting me so much over the years.