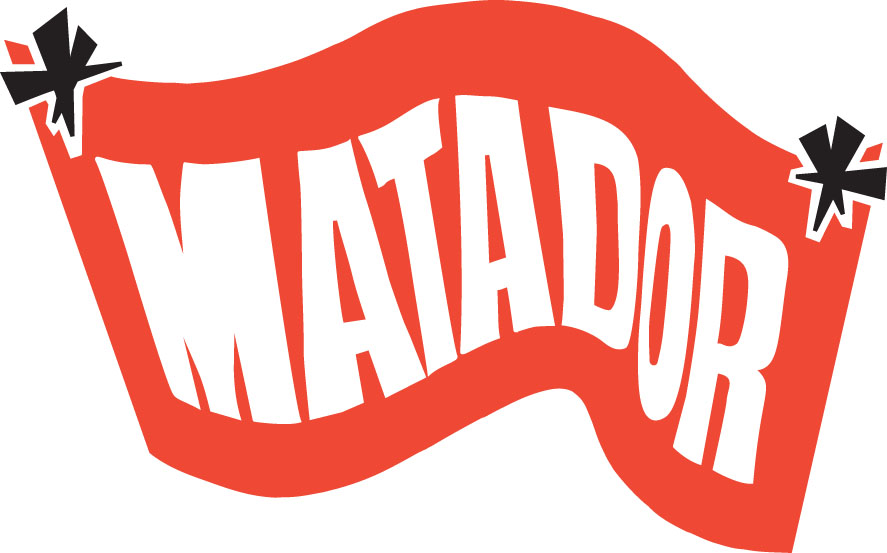 You can't always derive much about a record label's identity from its name.
Matador founder Chris Lombardi, for example, pinched his company's brand from a Pedro Almodóvar movie in a snap decision spurred on by design deadlines.
Yet there are certainly characteristics of the bullfighter which rather suit the history of Matador, which turns 28 this year – particularly a penchant for the powerful and provocative, and a fearlessness in the face of peril.
Since Matador was created in Lombardi's Tribeca apartment in 1989, it's gone on to introduce audiences to the likes of Superchunk, Teenage Fanclub, Guided By Voices, Pavement, The New Pornographers, Yo La Tengo and Interpol.
More recent successful signings have included Kurt Vile, Savages, Cat Power and Queens Of The Stone Age – who scored their first ever US No.1 album in 2013 with Like Clockwork… on Matador after years signed to a major label.
Lombardi met his Matador colleagues Gerard Cosloy and Patrick Amory before the label existed, when the trio worked at indie Dutch East India Trading.
He says that he initially started his record company "as a hobby – to document some bands playing in New York at the time".
[PIAS]'s Kenny Gates sat down with Lombardi to get the story of Matador's origins – and gauge his view of the music industry today…
---
Am I right that the first record you put out on Matador was by an Austrian band?
Yes, a band called H.P Zinker. Gerard recommended I go see them. It was supposed to be a 7″ deal – just a song, but they recorded a mini-album, six tracks. That was more than I expected.
At the same time I was friends with some other bands in New York. I quickly had four or five albums coming out – including The Dustdevils, Railroad Jerk and Superchunk.
All of a sudden I had a number of releases to responsibly promote, press and distribute.
---
You had to pay bills, then?
Yeah – and it wasn't easy to get paid in those days. A Lot of the indie distributors weren't the quickest to write a cheque, especially if you didn't have a hot record.
---
Did you have startup capital to get going?
I borrowed some money from my dad. Not very much. Probably $40,000 over two years. That helped keep the lights on.
The Railroad Jerk record did pretty well and the Superchunk record did pretty well, and Gerard had also gotten this cassette from the guys in a band called Teenage Fanclub. He had been shopping that around to a few different major labels at the time, but between [Cosloy's label] Homestead and Matador we said: 'Let's put that out together.'
That's when we started working together. We signed Teenage Fanclub and things really started to take off.
---
So that was your breakthrough record?
Yeah. It was also a time where things were starting to change with the mainstream for the indie music business. There were a number of different labels cropping up – Sup-Pop, Matador, Merge. And then in 1991, Nirvana really started to heat up.
During that frenzy of alternative rock, the major labels were trying to grab a piece of something they didn't quite understand. At the time there was a lot of LA hair metal bands, Guns'N'Roses and Poison, and pop music.
The bands we were signing were starting to sell real records and we did a distribution deal with Atlantic at the start of 1993.
---
Why did you do that? You needed the cash?
One thing we've always been able to do, which is a pretty amazing luxury, is that somehow we found a way to put out whatever we wanted while never really having to concern ourselves with the commercial viability of it – because we've had partners who've allowed us to do what we wanted.
We've been able to do these joint venture deals, grow the company and hold onto our artists while not compromising on our artistic taste.
---
How does it work with you and Gerard?
We're both the A&R guys. We sign the bands that we like and the music we want to hear. It's really about the music that we love.
The thing that's been great is for the past 27 years we've only worked with artists we like. We're not sniffing around to find the 'new' thing all the time or meeting every band that comes to town.
---
Do you consider yourself an entrepreneur?
Probably in the pure sense that I work for myself and do what I want.
In terms of being a businessman, no. I never thought of myself as a businessman first.
---
How did you deal with the company expanding? Did you go to business school?
No I only went to college for three months, and Gerard also went to college for a few months. So… instinct!
We had business managers to deal with royalties and the more complicated aspects of a larger roster with 30 employees, but [the growth in the business] was mostly us just figuring it out.
It's hard to become a 'boss' all of a sudden. We really just employed our friends for a long time. Our oldest employee, Rusty Clarke, is Director Of Sales at Beggars [US]. At the time, the only requirement of people we hired was to love the music we loved and be able to talk knowledgeably about it.
Previous history in the music business was actually considered a downside. If you'd worked for a record company, it probably meant you'd been influenced by someone else.
Rusty was a waitress, but she went to every show we were at. It was hand-to-mouth for quite a while.
---
How long did it take before you were able to actually make a salary out of the business?
Well, we didn't really work like we had salaries. We'd just about pay our rent and buy pizza. We lived with the label.
I had thousands of H.P Zinker records at my loft. You kind of forget how much space that many boxes, 3,000 sleeves, inserts and pieces of vinyl fill up. They don't come assembled!
We'd invite friends and the bands over, get some beers in and some drugs and stuff the records for a few hours. It was great. It felt home-made, which it was.
---
Let's go back to your time with Atlantic Records – in hindsight, was it a good or bad era?
I won't say those experiences were ideal relationship-wise. I don't think we got much from it really. But we did get capital, and with their investment we were able to grow the company further.
We had a pretty liberal arrangement with them. We were a fairly in-demand company at the time. And we weren't super-greedy; we weren't trying to sell ourselves.
It ended at the end of 1995, which was kind of the beginning of our first-hand experience of the major label revolving door. We saw record company executives we'd begun our relationship with go away. The guys we did our deals with, first at Atlantic and then Capitol, they moved on.
These executives are really there for themselves, they're dictated to by a corporation, sales goals and publicly-traded companies. They come and go, and they go to the next place that gives them the best deal.
The next guy wants to get rid of the other guy's [ideas] as soon as he can. He doesn't want someone else to get the credit, and certainly he doesn't want someone else's failure on his hands.
---
You signed to EMI/Capitol after Atlantic. Why?
Our guy from Atlantic, Danny Goldberg, moved on and so it was time for us to find someone else who was sympathetic to what we do.
That ended up being Gary Gersch at Capitol – the guy who signed Nirvana to Geffen. He was at Capitol for about two years, and then he left. And so we were getting used to this major label situation.
---
You sold 49% of your business to EMI? How do you get past that?
We did. The Capitol deal bought us out of the Atlantic deal, then when we finished up with the Capitol deal we did a distribution agreement with DNA, part of Valley, and we were fully an independent company again.
---
You got an advance for your distribution and paid back Capitol?
Yes. Then Valley/DNA went bankrupt. We were able to get our stock out. And, of course, we owed them money – but they were bankrupt. So we walked free and clear and did a deal with ADA.
---
And finally, you found the ideal suitor…
By 2001, we wanted a more engaged partner; a partner who was more established outside of the United States where we'd struggled for a long time.
We had various distribution deals [around the world] at that point. We contacted Martin Mills and talked to him about partnering up. And by the end of that year we sold 50% of Matador to the Beggars Group. And it's been a tremendous period of stability and growth ever since.
Martin and the Beggars Group have really allowed Gerard, Patrick and I to do what we do best and not worry about…
---
All the shit.
Exactly. All the shit.
Being able to represent ourselves as a truly global company is remarkable. It's been amazing.
Beggars has given us excellent stability as well as great insight – they're a cutting edge entertainment company. They're at the forefront of all the new media stuff.
---
You made a comment when Queens OF The Stone Age went to No.1 in the US that you felt "numb". Why?
It's hard to go up from No.1. When Queens went to No.1, I wasn't looking for it – it wasn't our goal. We've never felt competitive in that kind of way.
It's never been about volume of sales or being a commercial market leader for us. It's just been about putting out the best music. We want our records in as many people's pockets as possible, but we're not about having hit records.
---
So was it scary?
No. It didn't feel like it wasn't 'us' at any point; we'd been fans and friends of Queens since the very beginning. That didn't feel weird.
We've gotten pretty good at what we do, and it's not every day you get one of those achievements. But that's not our focus.
---
Were you proud?
Yes, but I was more happy for the staff and the band; they deserve to experience having a No.1 record. I was proud to say an independent label like Matador was able to give a giant rock band like Queens Of The Stone Age their first No.1 record – that was a satisfying moment for sure.
---
If the Chris Lombardi from 1989 could see the Chris Lombardi of today, what would he think?
He probably wouldn't believe it. But with hindsight, I probably would have done a few less drugs. [Laughs].
I think we've done good. I love coming to work every day and working with the folks in this office. My days are spent having meals with unbelievably talented musicians – people who are musicians because they have to be. They're not trying to score a hit record; they have to express themselves in a unique way.
I'm pretty emotional about my business. It's all about caring about and believing in the people you're working with – and convincing people to take the time to check out something you believe is truly special.
---
Did you ever get up in the morning, look in the mirror and think: 'I'm not up to this. I can't do this?'
No. I'm a fairly optimistic person. I'm certain there were some times where we were flying by the seat of our pants. But those are kind of the funnest times – when all of your senses are at their rawest and you're just trying to figure it out.
---
What's the worst moment in your career?
I don't think I have one! I honestly haven't really had any shitty moments.
I guess my worst moment was we had a much too large staff after our various major label partnerships. We had staffed up to resist their involvement.
When we became fully independent our cash was a lot tighter and we had to be more responsible with our overhead. We had to slim down and let go of some staff that weren't necessary. [Getting too big] wasn't the best decision my part, and that was hard.
---
Who are your mentors; people who inspired you to do what you do?
It's the bands. They're who inspire me. There's no executive who inspires me.
---
Are you a romantic?
I'm a pretty romantic guy. But I'm romantic about now. I don't romance the past. I like what I'm doing right now – I'm enjoying talking to you. I'm talking about myself, though, which is…
---
You're a bit uncomfortable talking about yourself?
I don't feel great about it.
---
Streaming. What do you think of it?
It's great. I meet kids who are more knowledgeable about my artists than I am, and that's because of streaming. They have entire catalogues at the tips of their fingers.
When we were growing up, it was like if they were out of stock, they were out of stock.
---
What about an industry that's 90% streaming? You think we'll still be able to break bands?
Yeah. If it's good, it'll float to the top. I don't really beat the dead horse of physical. I actually always think there will be a physical aspect.
But the fact is, many, many more people will be able to listen to our music and we'll get paid for it. That's exiting for us and our artists.
---
Why do you still get up in the morning and do this? What's your purpose?
To help support and spread the message of people I feel are hugely talented.
I have the best job in the world. I really do. And I'm very lucky it fell into place the way it did.