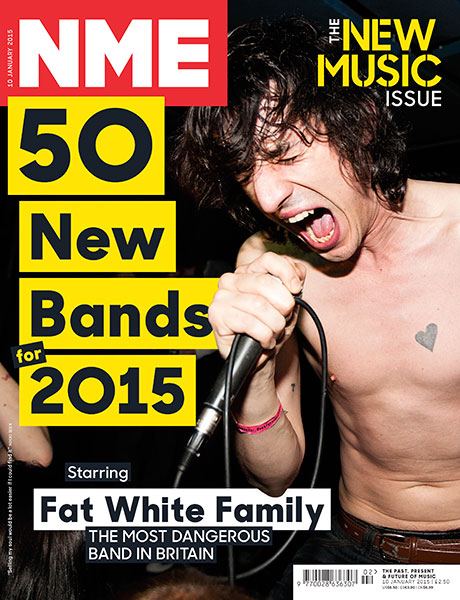 They say nothing good ever came for free.
But that was before NME magazine, a staple of youth music culture in the UK and beyond for 63 years, did away with its cover price.
As part of what parent Time Inc calls a major 'brand transformation', more than 300,000 copies of the physical mag will be distributed every week throughout UK railway stations, universities and retail partners from September 18.
What that means in real terms – and exciting terms for labels looking to find their artists a significant audience – is that NME's readership will leap up by 285,000 readers overnight.
Elsewhere, there'll be an expansion of NME live events and a revamp of the popular NME.com (now carrying 5m unique monthly users).
There appears to be a slight trade-off for this more mainstream bid, though: in its announcement earlier this month, Time noted that 'while music will remain part of the brand, the magazine will also cover film, fashion, television, politics, gaming and technology'.
Meanwhile, in an unrelated move, NME.com has just expanded into Japan with NME.jp – a site offering translated versions of the UK's best articles, plus local news and artist interviews.
TIE caught up with newly-promoted NME Editor-In-Chief Mike Williams to ask what these changes might means for independent music…
---
 Why go free?
I understand that the magazine going free is the headline news – it's still what we're best known for.
But for us this is just as much about the wider NME brand transformation; we're changing into a digital-first, audience-first business. It's really exciting in 2015 that we can include print in that.
Quite a lot of people would expect a digital-first business to have no place for print at all. But we know there's a big appetite for print out there – and a big appetite for free media.
Our distribution strategy is not solely targeted at commuters, it's nationwide and hits our target demographics.
We'll also keep on being delivered to our current subscribers if they pay for the [postage].
We're working out what the costs will be, but that will help us ensure the entire UK is covered.
---
Will there be less pressure on you to 'sell' the mag – and therefore, perhaps, a chance to experiment with new artists on that famous NME cover?
It's a little bit of a misconception that a free magazine has no pressure to sell itself; ultimately you've got two or three seconds to sell yourself to someone walking past or a pick-up point.
With a strong, powerful brand like NME you have to make the cover work as hard as possible.
The cover of NME should be one of the most talked-about things in music each week – that's one of the most exciting things about this transformation. It will definitely help us achieve that objective.
Cover-wise, it liberates us in two ways: it allows us to support emerging talent – so long as we've got the right message and we're confident we can sell [an act] to a wider audience. It's true that sometimes you might struggle to do that on the newsstand.
But this move also allows us to go the opposite way – to talk about bigger things that are part of a wider cultural discussion.
Our ability to connect on a large scale with a free print product means we can hopefully bring in some of the most-talked about artists in the world.
You'd have to say that a digital-first business that's got 5m people reading the website and 300,000 print magazine distribution is a powerful brand.
---
Should labels be worried about this talk of more games, films etc. in the mag? Will you still be the New
Musical

Express?

The DNA of this brand is music – it's our heartbeat, our identity. It's we've stood for since 1952 and it's what we stand for in 2015.

We're absolutely a music brand, but now we're expanding to include those things that are informed and influenced by music – and which inform and influence music.

No-one looking at our site, magazine or attending our events will fail to see we're a music brand through and through.
---
Does the dropping of the cover price mean that you can let more of what some publishers refer to as 'quality magazine content' breathe online?
Ultimately, we want all of our content available where the audience wants it to be.
From our perspective as an editorial team, there's been a philosophical change: we're a digital-first company that makes a magazine, not a magazine with digital add-ons.
We publish great pieces of writing. This old thing of 'it's a print piece' or 'it's an online piece' doesn't exist anymore: wherever you are, whatever you're doing, however you want to engage with NME, you'll be reading the same features.
---
What can you tell us about NME.com's expansion into Japan?
We've partnered with an events company out there that will help NME become pretty high profile.
It's incredibly exciting for us.
The whole idea is to ensure NME is a global company. It's always been an influential brand way beyond Britain – we want to galvanise that and build on it.
There are no limits to what we can do with this brand.
---
The reaction on the music biz side to you going free seems to have been pretty positive so far…
Yes, and that's been fantastic to see. We all knew the media landscape was changing, but some thought 'old media' was dying.
It's funny that in 2015, the two biggest music media stories have actually been about a traditionally-presented radio station, in Beats 1, and a refreshed magazine at NME.
---
With the dearth of TV opportunities for independent artists in the UK and beyond, a 300,000 print readership plus those 5 million readers online may prove crucial to the music business. Are ready to wield that level of influence?
We already were. You can't just equate NME's influence to newsstand: a hell of a lot of music industry decisions are still based on who's on our cover.
There's now a big opportunity for us to extend that influence to loads of people who aren't as switched on to music as they should be – especially young people in danger of missing that formative NME experience, of discovering the brand.
We can't wait to embrace the new age of NME.